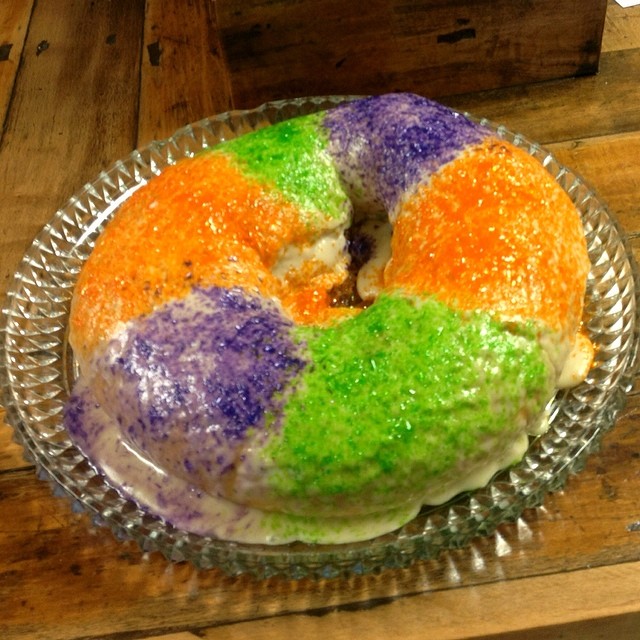 It's weird. This is the first year in a while that I haven't made vegan King Cake. It was hugely popular at the bakery and we sold through it as fast as it could be made. It's not as hard to make as it looks.
Many people are afraid to make anything that involves yeast because they've had some failures. I have two tips that will help you deal with yeast.
First, when a recipe says to proof your active dry yeast in warm water, you have to make sure the water isn't too hot or too cold. Above 140F will kill the yeast. The internet says the ideal temperature is somewhere between 130F and 140F. So your faucet water might be hotter than that and you might be killing the yeast right at the beginning. Of course, your active dry yeast might already be dead which seemed to happen to me about half the time.
Which leads me to my second tip…don't use active dry yeast. Use instant yeast. Once I discovered instant yeast, I never looked back. No proofing required. Just add the same amount as the active dry yeast called for in with the flour and whisk in. Any liquid and/or sugar the recipe called for to proof the active dry yeast, just add in when the recipe calls for those ingredients or similar ingredients (liquid or sweetener.) Also, your dough will probably rise faster than the recipe says. Most recipes tell you to let it rise for a time period OR when the dough has doubled. Just put the dough in a container where it will be easy to mark double the starting level. Check it in half the time then gauge from that how often you'll need to check before it gets to double.  Seriously, replacing active dry yeast with instant yeast in your baking will change your life.
The recipe we used at Dough was adapted from Kittee Berns' recipe in her cookzine Papa Tofu.  She has posted some updated King Cake recipes including a vegan gluten-free one so head on over to her site if you'd like to check those out.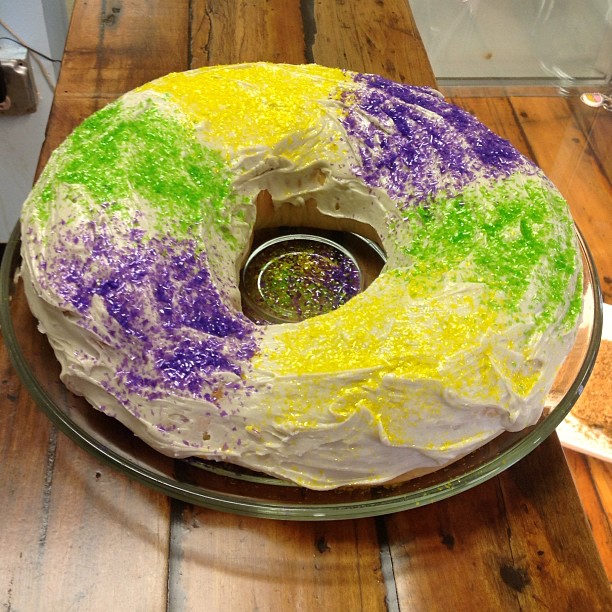 Vegan King Cake Recipe
Makes 2 King Cakes
Ingredients
Cake:
2 ounces (1/4 cup) Earth Balance
1 12 oz. box firm silken tofu
2 teaspoons lemon juice
4 ounces (1/4 8 oz. tub) Tofutti cream cheese
⅓ cup sugar
1 teaspoon salt
4 ½ teaspoons instant yeast
1 tablespoon Ener-G egg replacer mixed in 3/4 cup water
6 cups unbleached white flour
2 babies or just use dried beans if you don't have babies
Frosting:
3 cups powdered sugar, sifted
1.5 ounce (2 1/2 tablespoons) Earth Balance, melted
4 tablespoons non-dairy milk
¼ teaspoon vanilla extract
yellow, green and purple colored sprinkles (can't find vegan sprinkles? Kittee has instructions for making your own at the bottom of this page. Remember, while confectioners glaze can be vegan, it rarely is.)
Instructions
Whiz the silken tofu in the food processor with the lemon juice and cream cheeze. Set aside.
Combine the Earth Balance, tofu cream cheeze mixture, 1/3 cup sugar and teaspoon salt in a medium saucepan. Heat until the margarine melts, stirring occasionally until smooth. Let the mixture cool to at least 105-115F.
Add the cooled tofu cream cheeze mixture, the egg substitute liquid, yeast and flour to a mixer bowl. Knead with dough hook until smooth, about 6 minutes. You can do this by hand. I have no idea how long it will take. Do it until the dough is completely smooth and elastic.
Place the dough in a well-oiled bowl, turning to coat top. Cover and let rise in a warm place for 1 hour or until the dough has doubled. If it's kind of cold, it won't be ruined, it'll just take longer.
Meanwhile, get your choice of filling ready. Scroll down for recipes.
Punch down the dough and divide in half. Turn one portion out onto the table and roll into a 22″X12″ rectangle. Or as close as you can get to that.
Spread half of your chosen filling(s) over the rolled out dough. Leave about two inches free on the top for the cream cheese variety, because otherwise the filling will squish up as you roll up the dough and ooze out the top.
Starting at the bottom (wide side), roll the dough up jellyroll style to form a thick log about 22″ long. Hide a small plastic doll somewhere in the dough as you roll it up.
Pinch the seam really, really well to seal. Gently place the coil, seam side down, on a parchment covered baking sheet. Bring the ends together to form a ring. Pinch the ends together to seal well (if you don't seal it properly, it will open up during baking and ooze).
Let rise in a warm place for 20 minutes. Preheat oven to 350F.
Bake for 20 minutes at 350F until golden brown.
For the frosting glaze:
Melt the margarine.
Combine the melted margarine, sifted powdered sugar, milk and extract together and beat with a spatula 'till smooth.
Frost each cake with half the frosting then sprinkle with yellow, purple & green sprinkles.
FILLING OPTIONS (each is enough for 2 King Cakes)
Cinnamon sugar filling:
1/2 cup sugar
1 1/2 teaspoons ground cinnamon
1/3 cup Earth Balance very soft
Mix sugar, cinnamon and softened margarine together well.
For the cream cheeze filling:
12 oz. Tofutti Cream Cheeze
2 tablespoons unbleached all purpose flour
1 cup powdered sugar
1 teaspoon vanilla extract
Beat the cream cheeze until smooth.
Beat in the flour, sugar and extract until smooth.
Happy King Caking!