Sometimes when we travel, it's more about the food than the trip. Asheville, I'm looking at you. But sometimes we need to travel somewhere for other reasons, usually involving relatives or maybe work.
Eating vegan on the road used to be a little more challenging but with chains like Chipotle stepping up it's become so much easier. And if you have time to veer off the highway, Happy Cow can help you find vegan friendly spots along the way.
On this recent trip to Virginia, I decided to pack a small cooler with food for the way there. A Tofurky cold cut sandwich, some chips that I got at a gas station when filling up and maybe some Oreos ended up going into my pie hole. I really wanted a Chick-O-Stick, but none of the convenience stores seemed to have them. It's definitely less than a perfect road trip without Chick-O-Stick.
I brought Tak along. She's a pretty good traveler but on the way there she's so excited that she doesn't want to lay down and sleep. Which wore her out pretty good. And that was fine.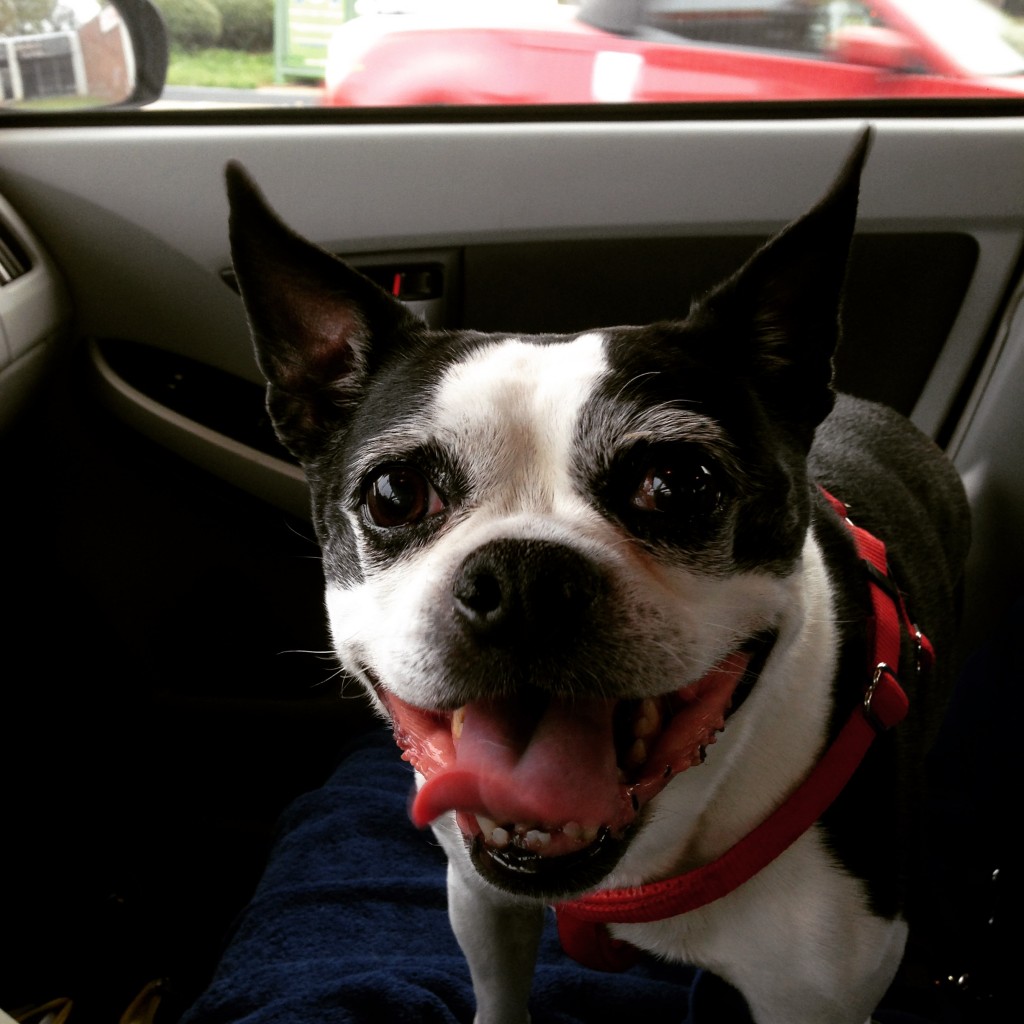 Normally when I go visit my mom, I make every effort to go into Richmond and eat all of their vegan food. But this time was more about family, so I brought some provisions and stuck close to home.
Since I was driving, I hauled the Vitamix with me so I could have smoothies every morning. I also used it to make a raw cashew cheesecake that I took to our Passover dinner. Other provisions included Soy Curls, BBQ sauce, tofu, nutritional yeast, black salt and some Earth Balance. I knew my mom would have vegetables, so this was plenty to keep me fed.
The first night, my mom and partner wanted to go out to dinner. And they didn't want to go to Richmond. So I got on my phone and started searching around for something. A Mexican place called Don Pepe popped up and they had a vegetarian section to their menu. That's something I can work with. By the way, this place is right off of I-95 if you're ever passing through.
As you can see, I was a bit hungry and attacked this before I remembered to take a picture. It's a bean burrito with rice and I got an order of guacamole as well. It was really good. The sauce on the burrito was fresh and flavorful. And the guacamole wasn't filled with a bunch of filler like some places do.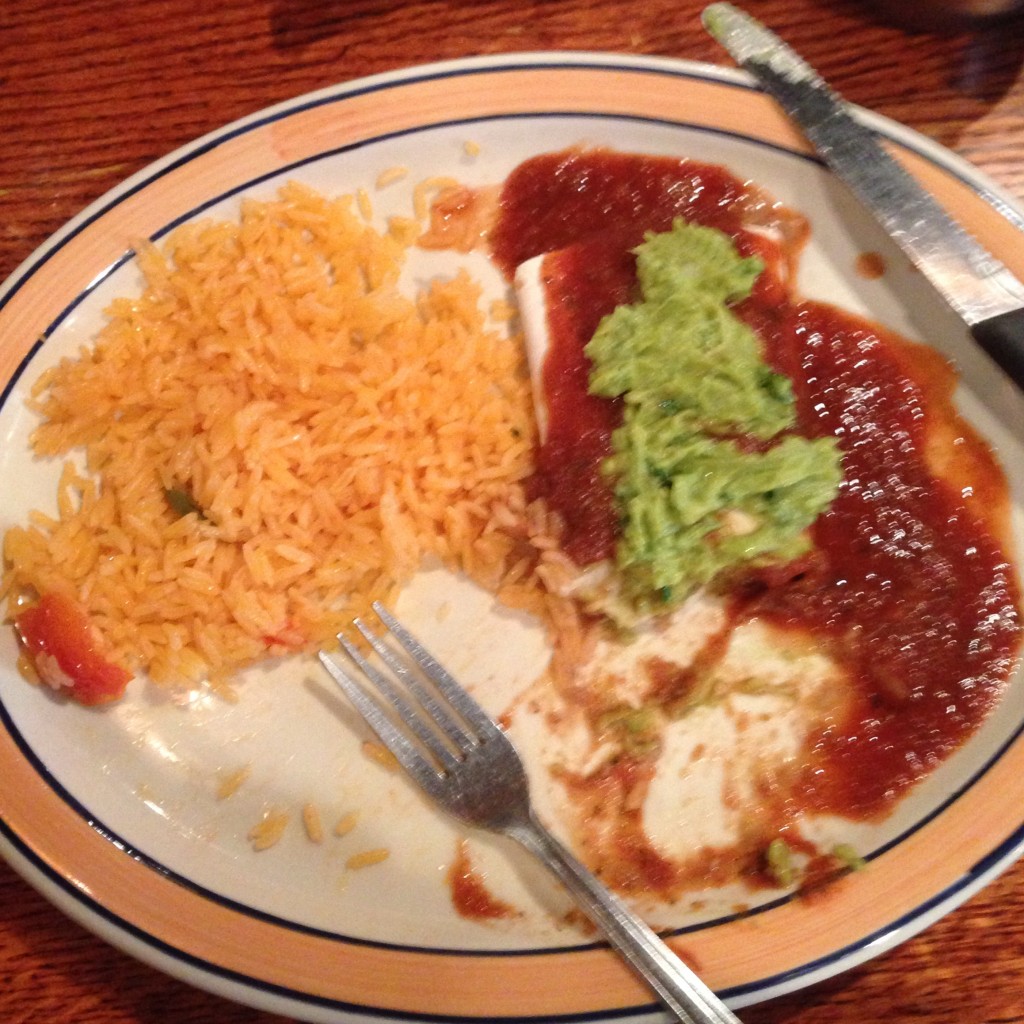 The next night, I made BBQ Soy Curls with sautéed kale and a couple of pieces of toast. Soy Curls make an excellent provision since they don't require refrigeration and they're light. As a matter of fact, I'm making a mental note right now to pack some when we head to Mexico in a couple of months. My mom was pretty adventurous this visit and tried the BBQ Soy Curls and really liked them.  Whenever I cooked something, she pretty much ate what I ate.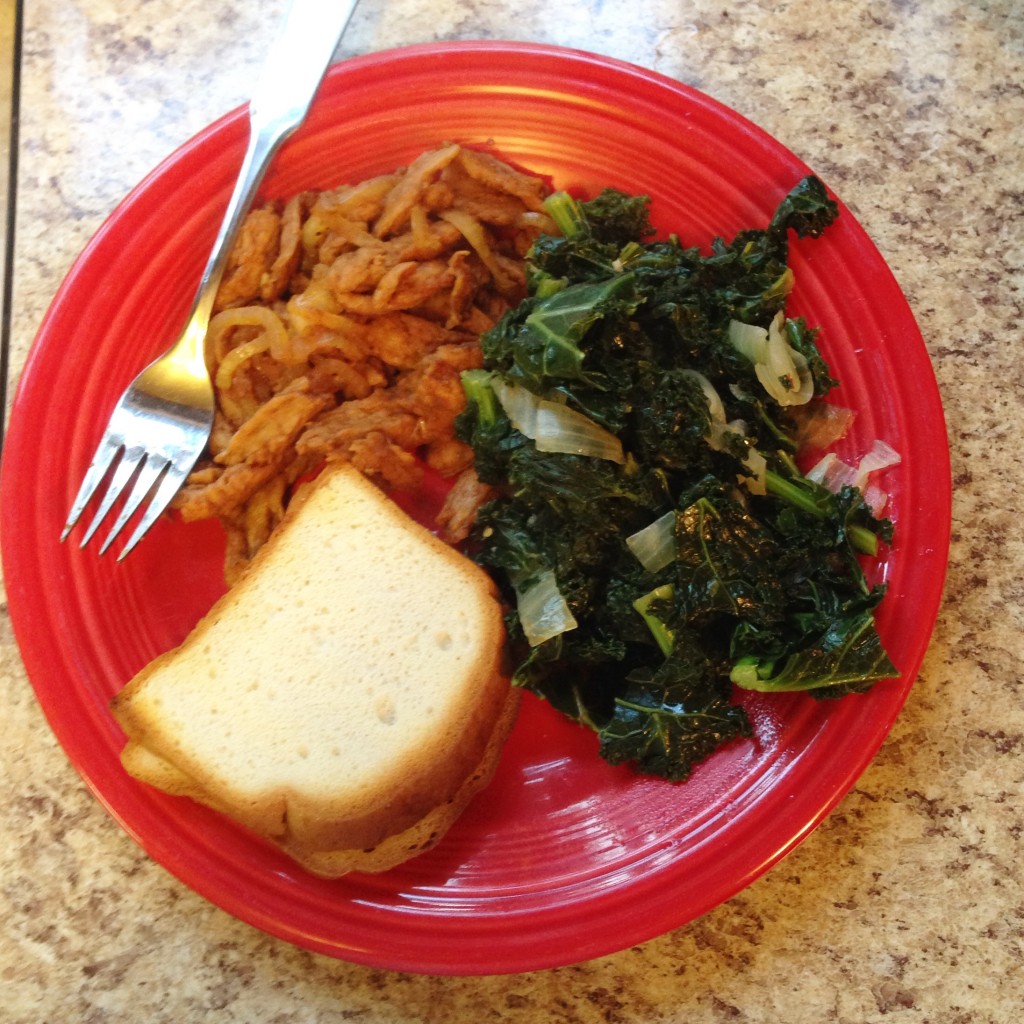 For Passover, I made up a batch of tofu scramble and took a little box with me. It was packed with veggies too so it could be a full meal. There were various munchies around I could eat as well. I'm assuming you've seen a tofu scramble and also I forgot to take a picture, so here's a lovely haggadah.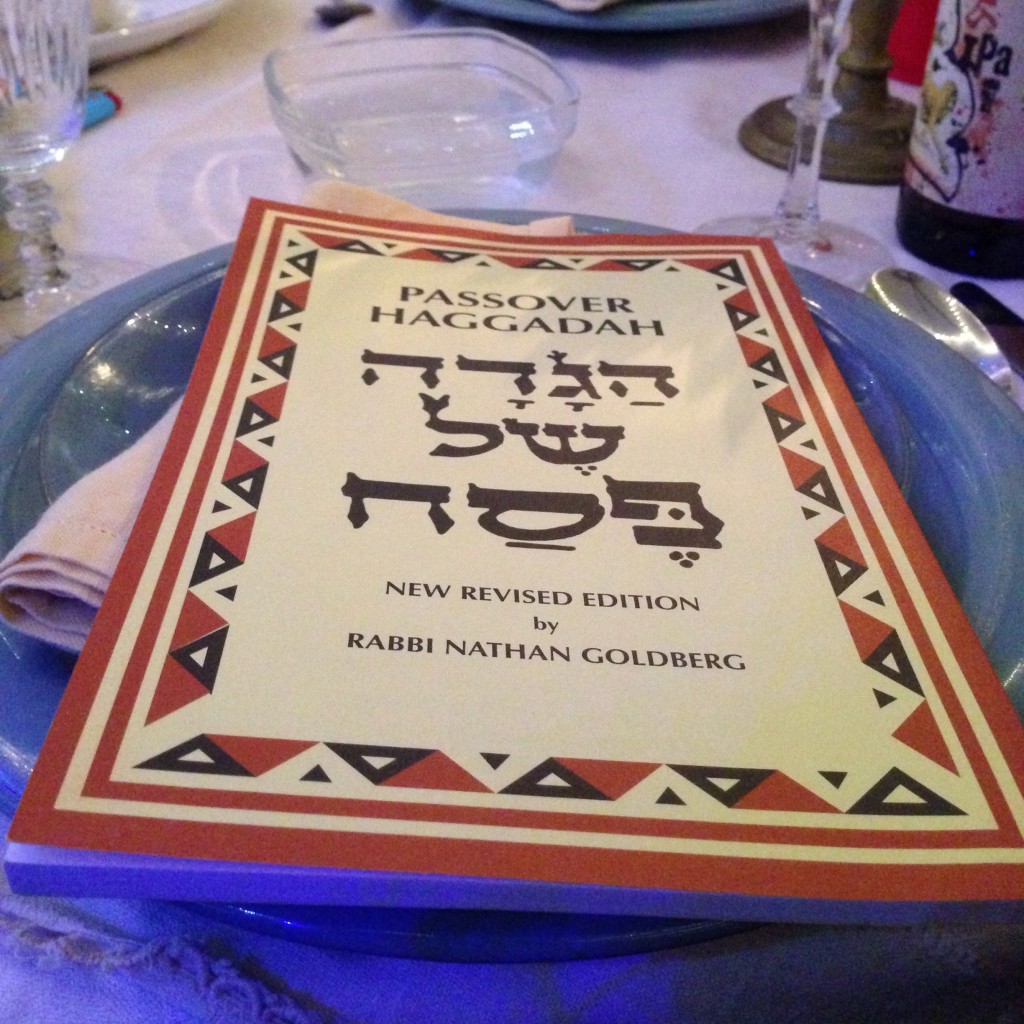 The next day, we met some family at the cemetery to visit relatives.
Then headed to Old Town Petersburg to walk around. This is a good side trip from Richmond.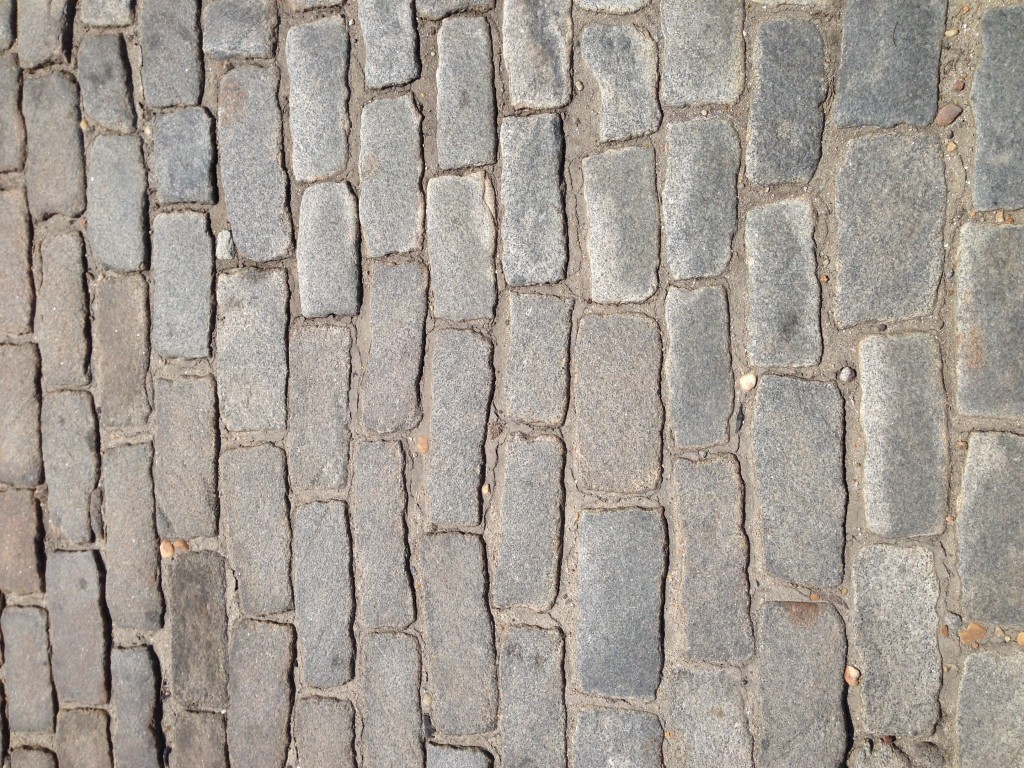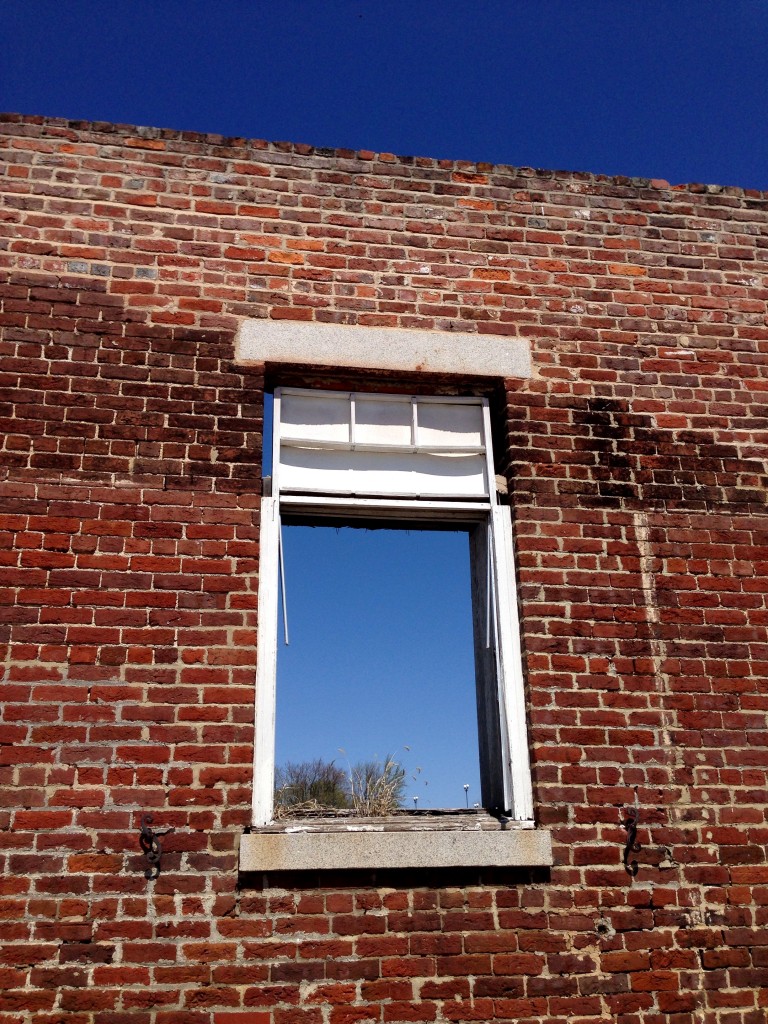 After that, my mom and I grabbed lunch at Wabi Sabi. The menu is a mix of sushi and sandwiches. With the sushi option, I knew I could make something work. That something turned out to be veggie sushi with a side of sweet potato fries. My mom may or may not have learned an important lesson about wasabi when she accidentally scooped up the whole dollop with a piece of her sushi. Ouch!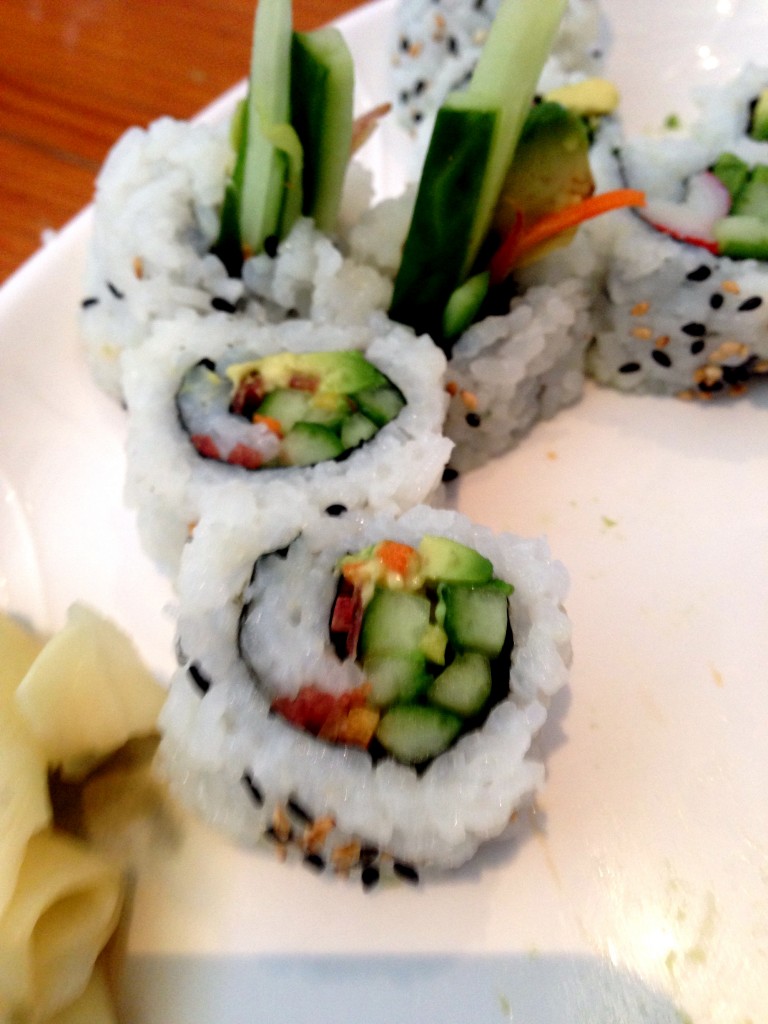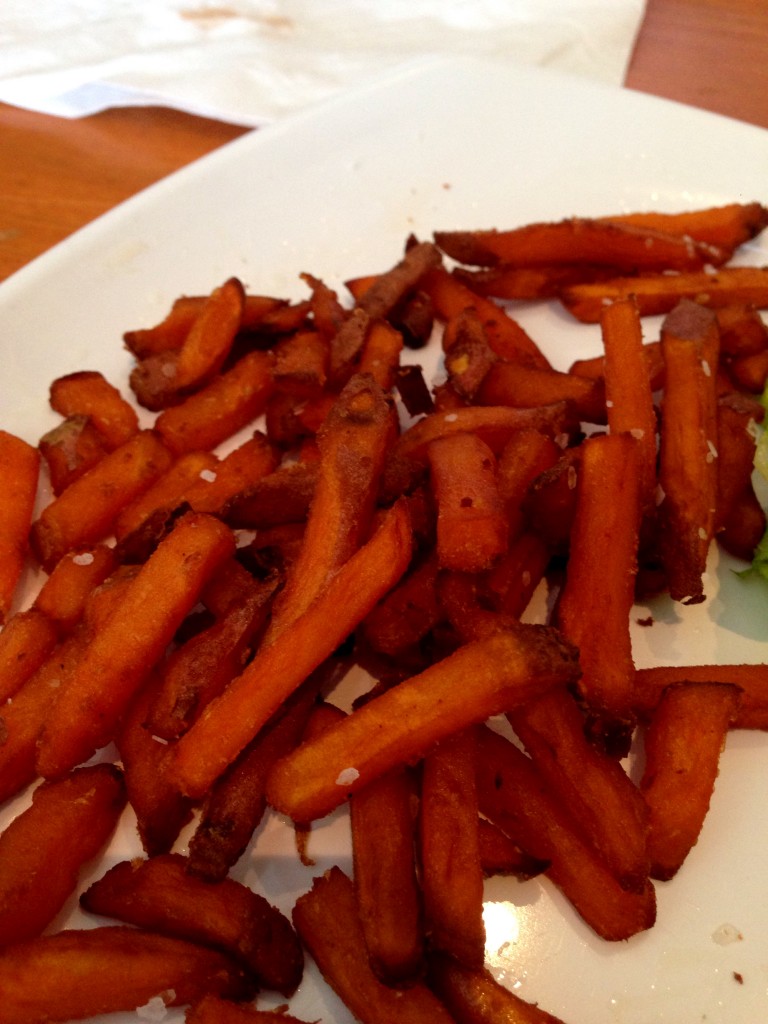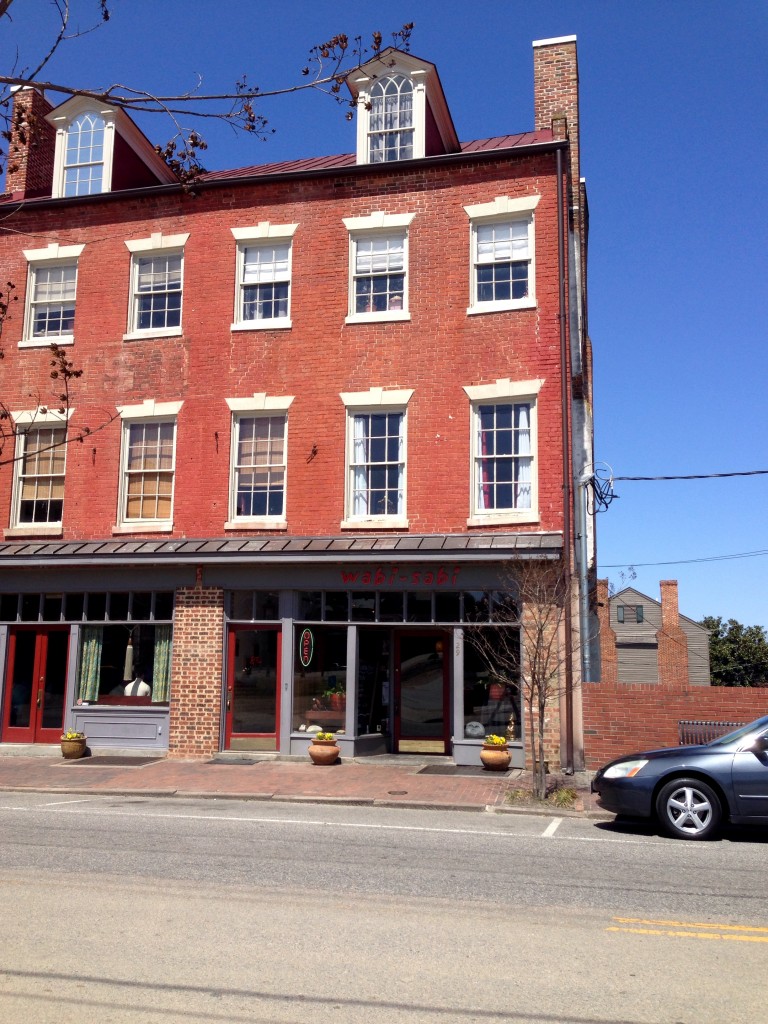 Finally, my last day in town, we did make it to Richmond for lunch. There was a new place I was thinking about trying, but they were closed Mondays, so we went to an old favorite, Ipanema Cafe.  It's a vegetarian sandwich place with lots of vegan options, including a jackfruit sandwich, and more importantly vegan pie.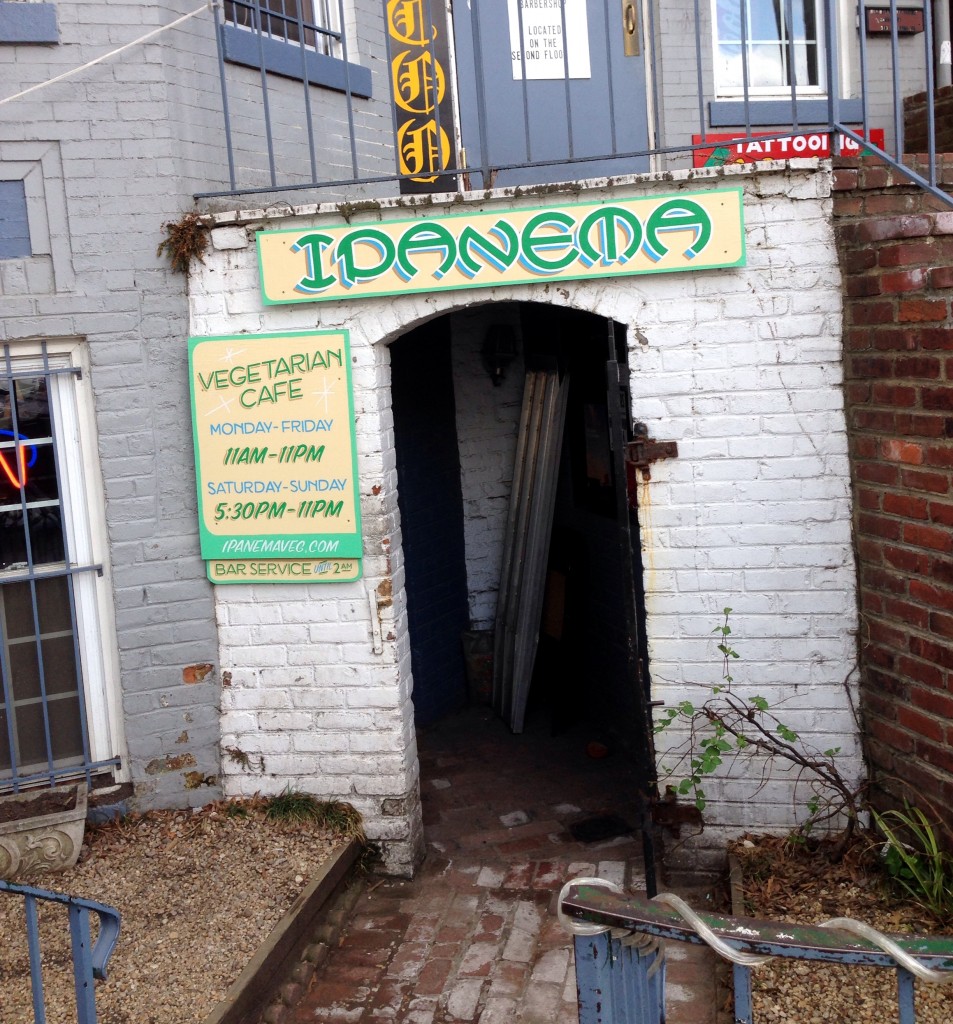 My mom and I both got the tempeh reuben. Delicious and only a little messy. My mom really liked it which is pretty impressive. Tempeh can be a hard sell.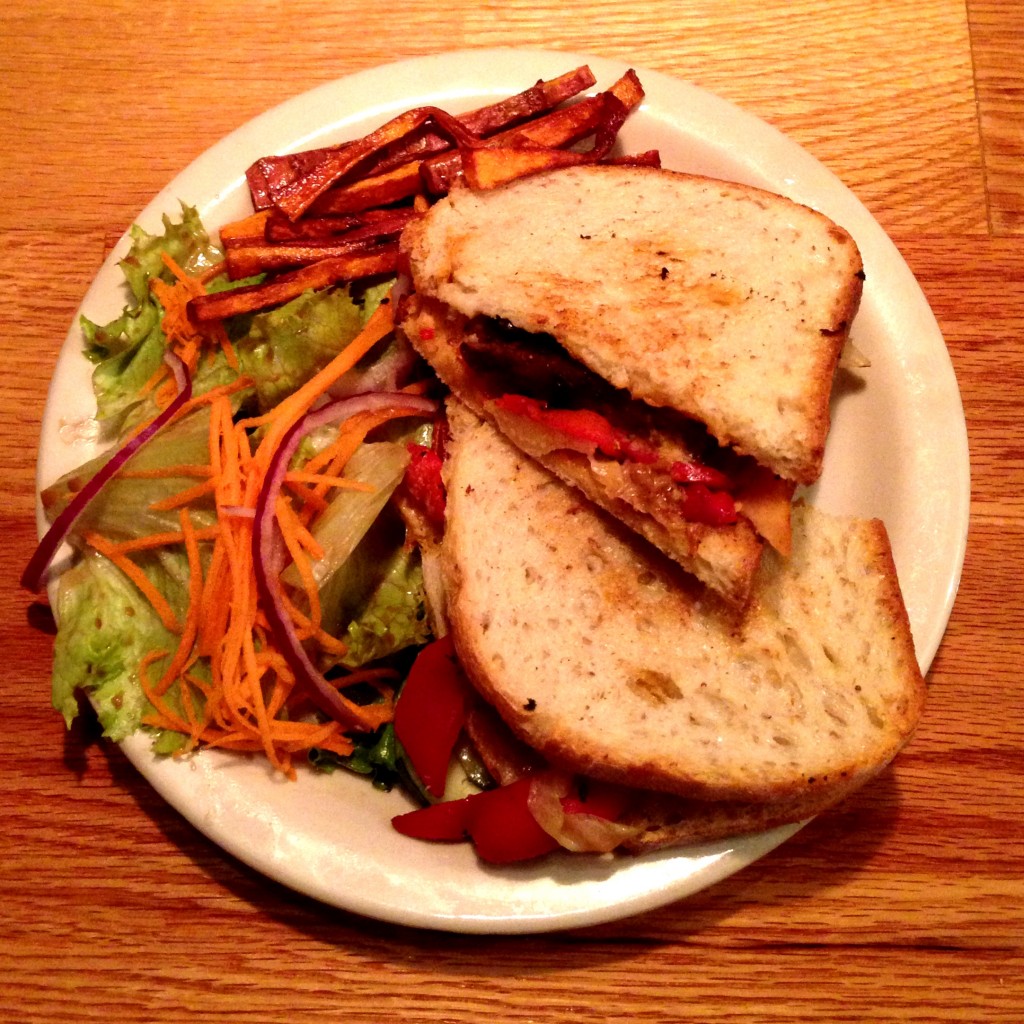 And pie could not be resisted. My choice was the cherry pie which I had with the soy ice cream because it was the right decision to make. It had a crumb top and shortbread crust. Yum!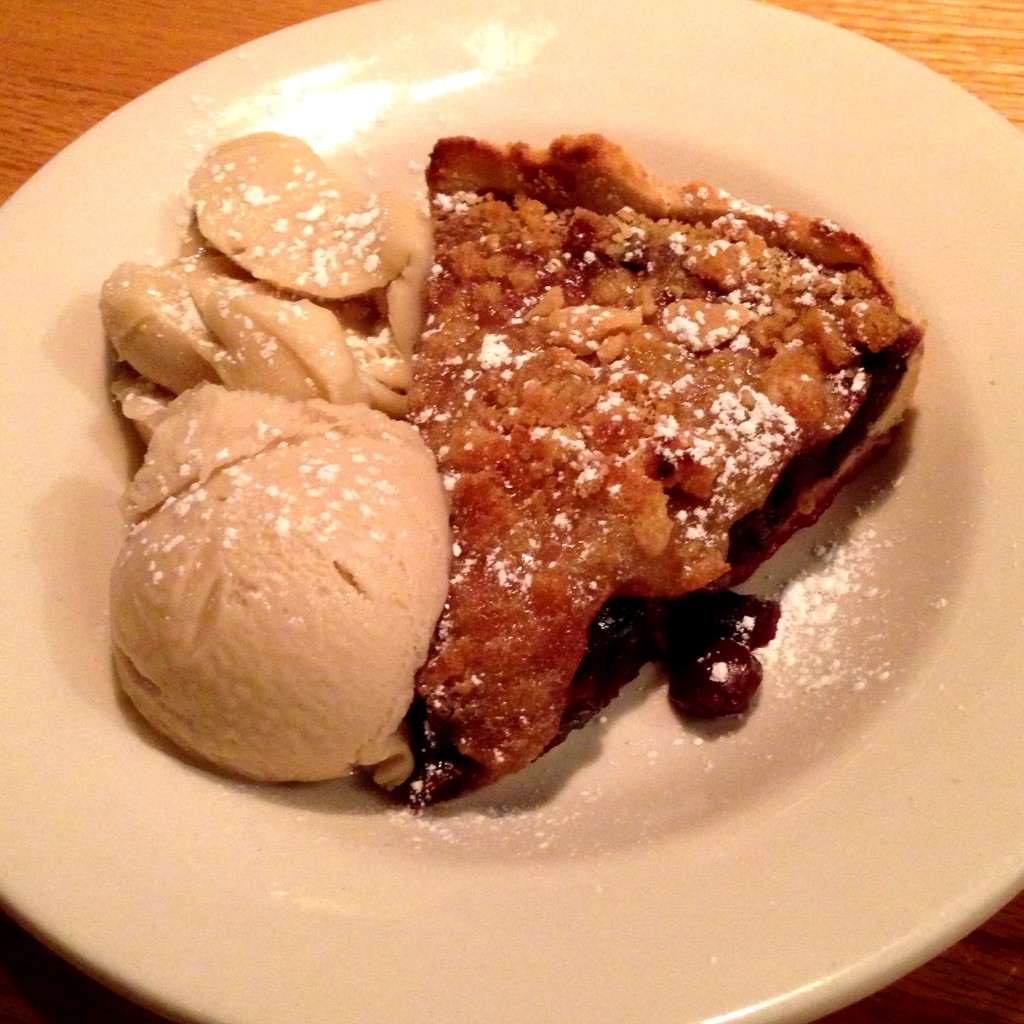 After that fine dessert, coffee was necessary and Harrison Street Coffee Shop, another favorite, is right around the corner. They also have simple sandwiches and vegan breakfast items. Plus it's one of my favorite coffee shop spaces. Oh, it's also vegetarian. Yay!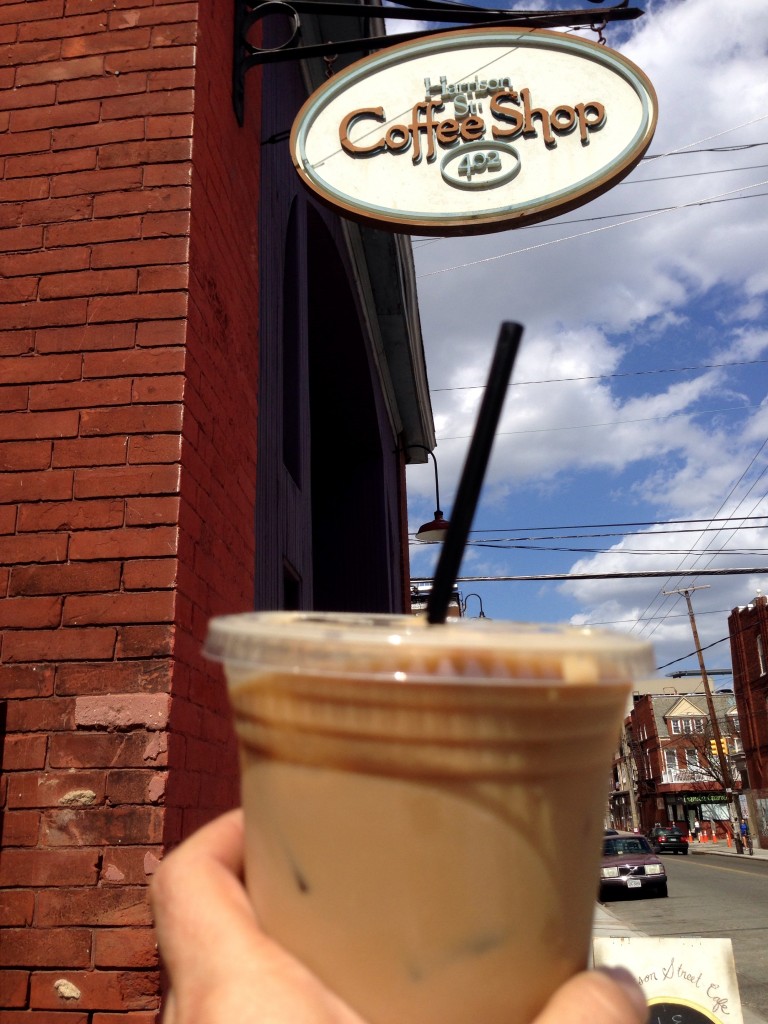 On the drive back, I didn't want to worry with packing anything. I decided I'd just wing eating vegan on the road. This time I hit the old standby, Taco Bell. I learned the lesson long ago, to always check the innards of a wrapped food before biting unless you're in a vegan restaurant. Taco Bell is no exception. Save yourself some grief and open them up at the counter before you take off. Even though my ticket was right, both of my burritos were wrong. They put some ranch sauce in my modified 7 layer burrito that doesn't even come on it and there was cheese on my bean burrito. No worries, just had them remade and was on my way. Why did I go to Taco Bell rather than Chipotle? Because you can hold a Taco Bell burrito in one hand while driving.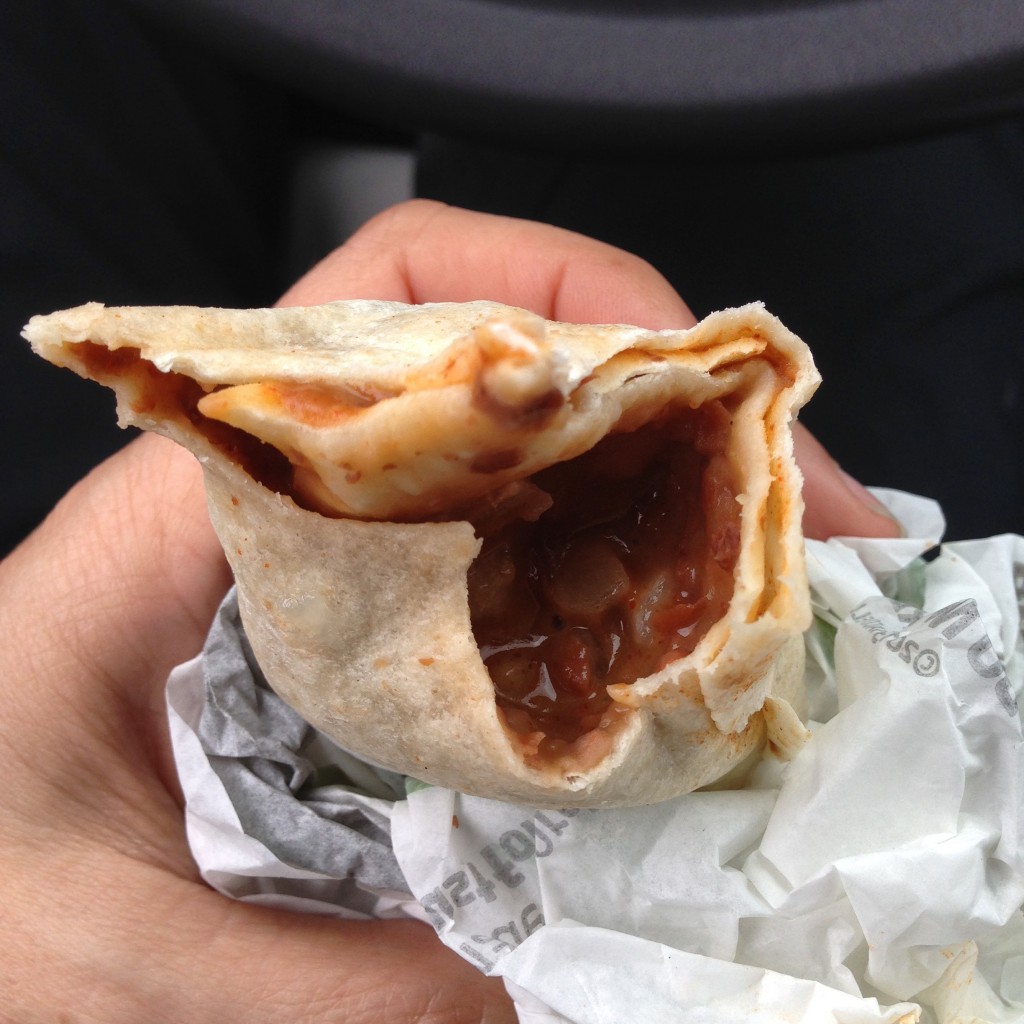 How do you handle eating vegan on the road? Do you carry food, research spots along the way and plan or just wing it?