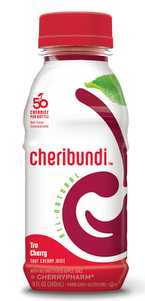 I've always loved cherries. My favorite pie is cherry. Love tart cherry jam. If I can get a hold of a vegan chocolate covered cherry, yum! Too bad fresh ones are so expensive even when in season. So when Cheribundi emailed me asking if I wanted to try their cherry juice it wasn't a hard sell.
Cheribundi has three varieties, Tru, Skinny and Whey. I just asked that they not send me any whey since it's not vegan. They nicely followed directions and the Tru and Skinny juices arrived. Of the two, I definitely like the Tru Cherry best. While you save 40 calories with the Skinny variety, the Tru Cherry has a more intense cherry flavor.
What great recipes did I make with the cherry juice? Well, I didn't cook with it at all. I just drank it. Oh, I did make a cocktail. It took a while to find a cocktail that used cherry juice that I had all the other ingredients for. Which cocktail did that turn out to be? Why, the Louisiana Leg Spreader! And it ended up being sweeter than I like. But at least I did something other than guzzle this stuff out of the bottle, not that there's anything wrong with that.
I'm not sure what part of the country you can get this stuff though. According to the find a retailer function of their site, Cheribundi isn't in any stores within 250  miles of me. As I've said before though, I'm more of a fruit eater than drinker.