Happy World Vegan Day!
To celebrate, I'm going to share another recipe from Dough, vegan Pumpkin Walnut Muffins. This was one of our most popular muffins at the bakery and while we made it year round, it's particularly suited to this season.  And bonus, these muffins don't require any weird ingredients. It's all stuff you can get at any grocery store.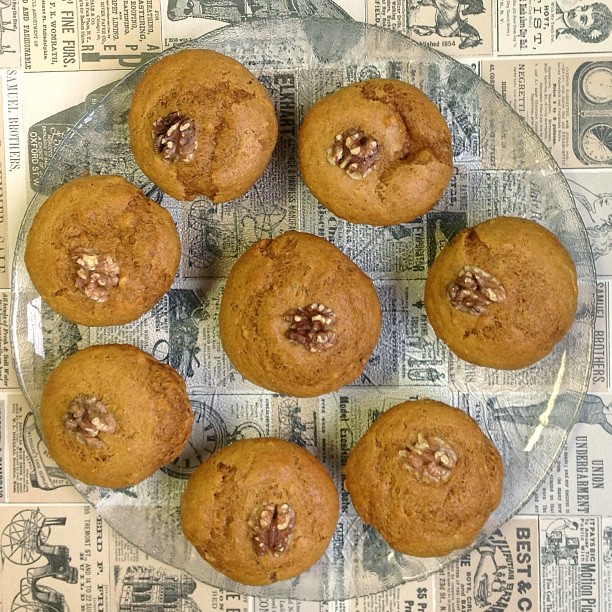 Pumpkin Walnut Muffins
1 3/4 cups all-purpose flour (or half all-purpose & half whole wheat pastry flour)
1 1/4 cups sugar
1 tablespoon baking powder
1/4 teaspoon salt
1 teaspoon ground cinnamon
1/2 teaspoon ground nutmeg
1/2 teaspoon ground ginger
1/4 teaspoon ground allspice
1/8 teaspoon ground cloves
1 cup canned pumpkin (just pumpkin, not pie filling)
1/2 cup non-dairy milk
1/2 cup oil
2 tablespoons molasses
1/2 cup chopped walnuts plus one walnut half for top of each muffin
1. Preheat oven to 350°F. Line muffin tin with 12 liners.
2. Whisk together the dry ingredients, flour, sugar, baking powder, salt, and spices in a mixing bowl. In a another bowl, whisk together pumpkin, milk, oil, and molasses. Pour the wet ingredients into the dry and stir until just mixed. Stir in chopped walnuts.
3. Fill the muffin cups about 3/4 with batter or if you have one with #12 scoop. Put a walnut half on the top of each muffin. Bake for 20 minutes, until a toothpick inserted in the center comes out clean.