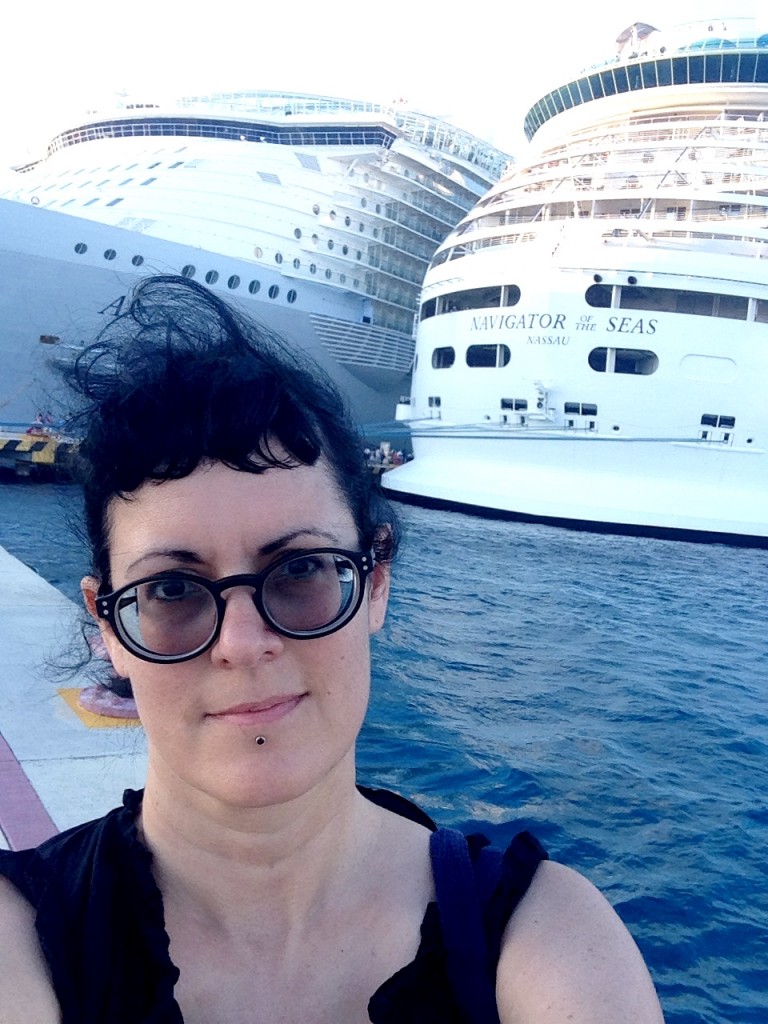 Cruises are known for their elaborate spreads of food with people piling up plate after plate of food from the buffet. But how does that work out for a vegan? This is my experience of eating vegan on a Royal Caribbean cruise.
Some things have changed since the first Royal Caribbean cruise I went on in 2008.  The main thing to note is that I didn't see any of the vegan margarine that they had that first time. Availability might depend on where they pick up supplies, or maybe their vendors changed. Finding peanut butter on the buffet was hit or miss this time around. If they don't have it out on the buffet, you can always ask. They usually have it in back.
We always had dinner in the dining room together at a table at our appointed time. There are also buffet options if you don't want to do that. If you do eat in the dining room, the first night get acquainted with the head waiter. He is your best friend. Ask him all of your questions. He will make sure you get what you need.
There is a set menu for each evening. You can try to order off of that. Often you can cobble together vegan or easily made vegan items from it. We had 5 vegans in our party, so each night we would order for the next night. We'd look at the regular menu to see if we could eat anything on it. And then we'd have them make something we requested. We had an added challenge – one of us was also gluten free. Most nights we ended up having some kind of Indian food. And then they'd also bring a plate of tofu and vegetables for us to share. The last night they had soy chicken on the regular menu. The head waiter took a picture of the package and it said vegan right on it! While I do like Indian food, it was getting a little old so the soy chicken was awesome.
Every night, they will come around with a bread basket. Ask about the breads, but there is a sourdough that is vegan. If they don't have the vegan margarine, ask them to bring some olive oil to the table for you to dip your bread in.
Desserts ended up being variations of rice pudding. One night we had carrot halwa. On a previous cruise, they made a chocolate soy pudding one night that was awesome. We got vanilla pudding one night this time.
This is the meal we had the last night. Salad, chilled mango soup,  soy chicken and carrot halwa, an Indian spiced dessert. The vegetables on the plate with the soy chicken were from the big plate of veggies they brought us every night.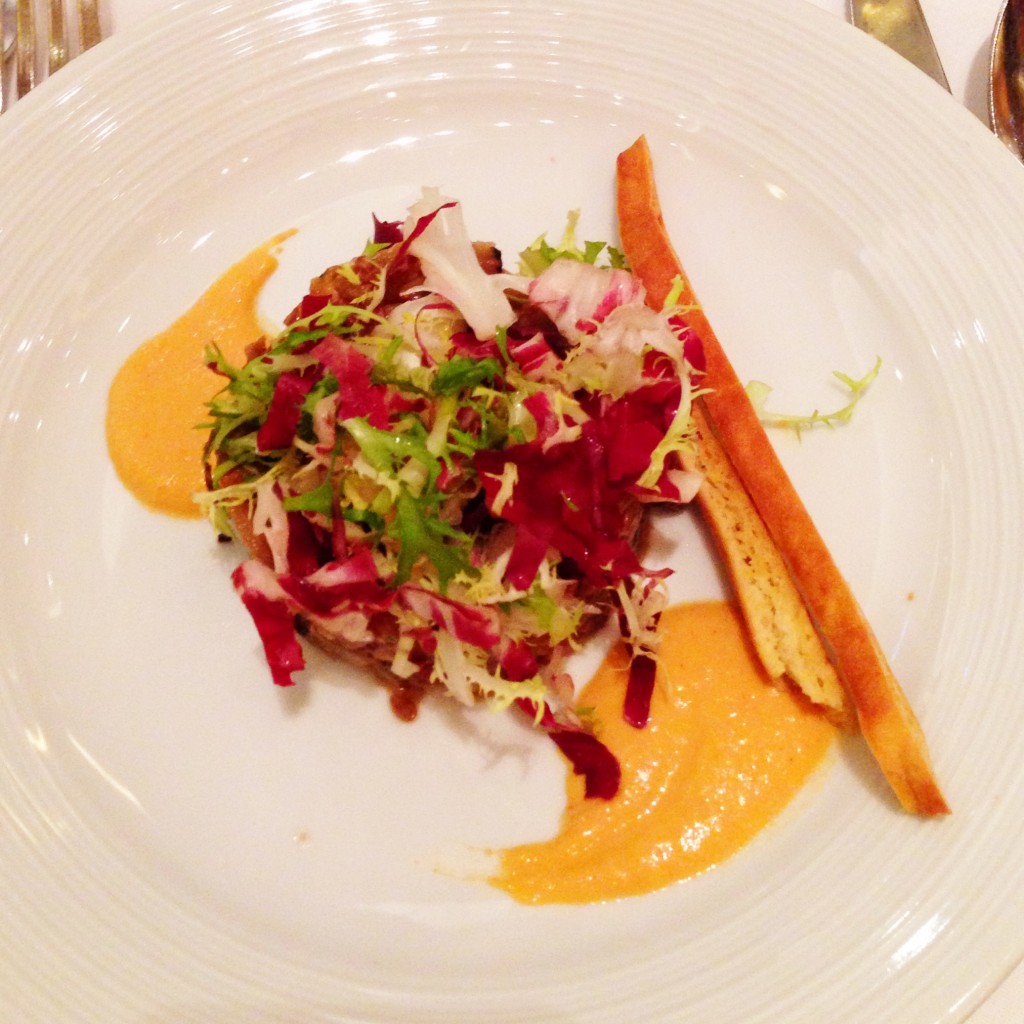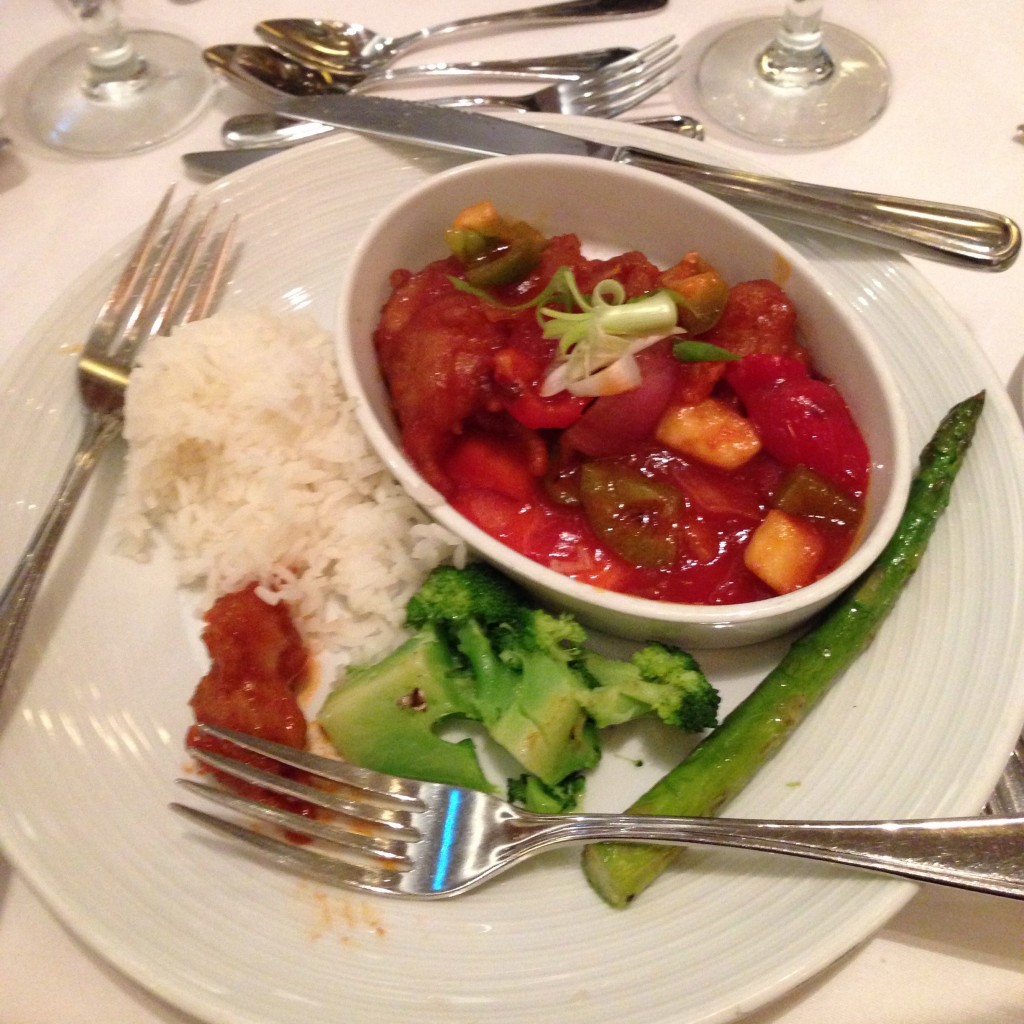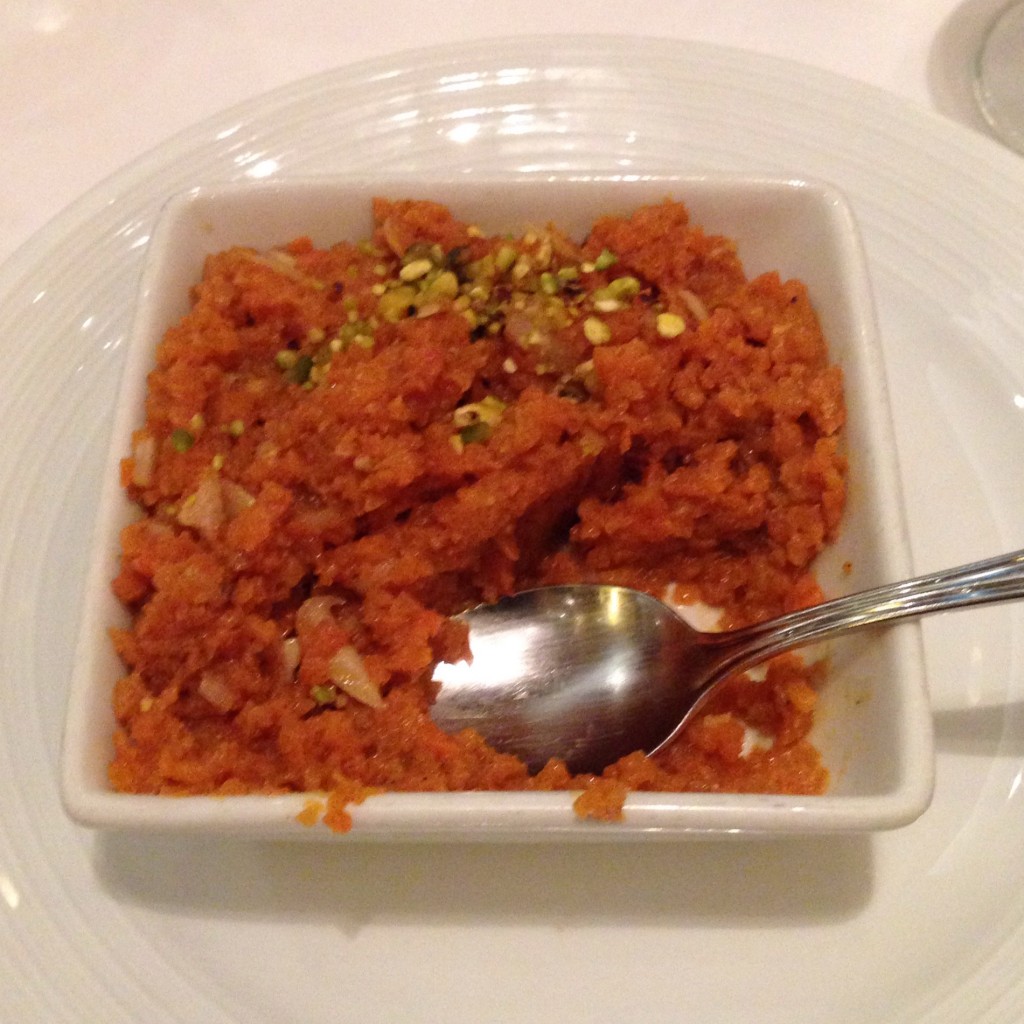 Breakfast and lunch we would have at the buffet. When you sit down, a waiter will come by and you can ask him or her for soy milk for your coffee and/or cereal. Do that first before you hit the buffet because they may have to go seek some out. There's always a ton of fresh fruit out. You'll find fried and roasted potatoes. They have a miso soup station where you can get some tofu cubes. I just assumed the miso soup wasn't vegan since it traditionally isn't, but I didn't ask. There will be some stir fried veggies and rice. There is almost always some Indian dish like chana masala.
Here's one of my breakfasts from the buffet at the Windjammer. Yeah, I ate chana masala over potatoes for breakfast. I ain't skerd. Also we scored an awesome window seat.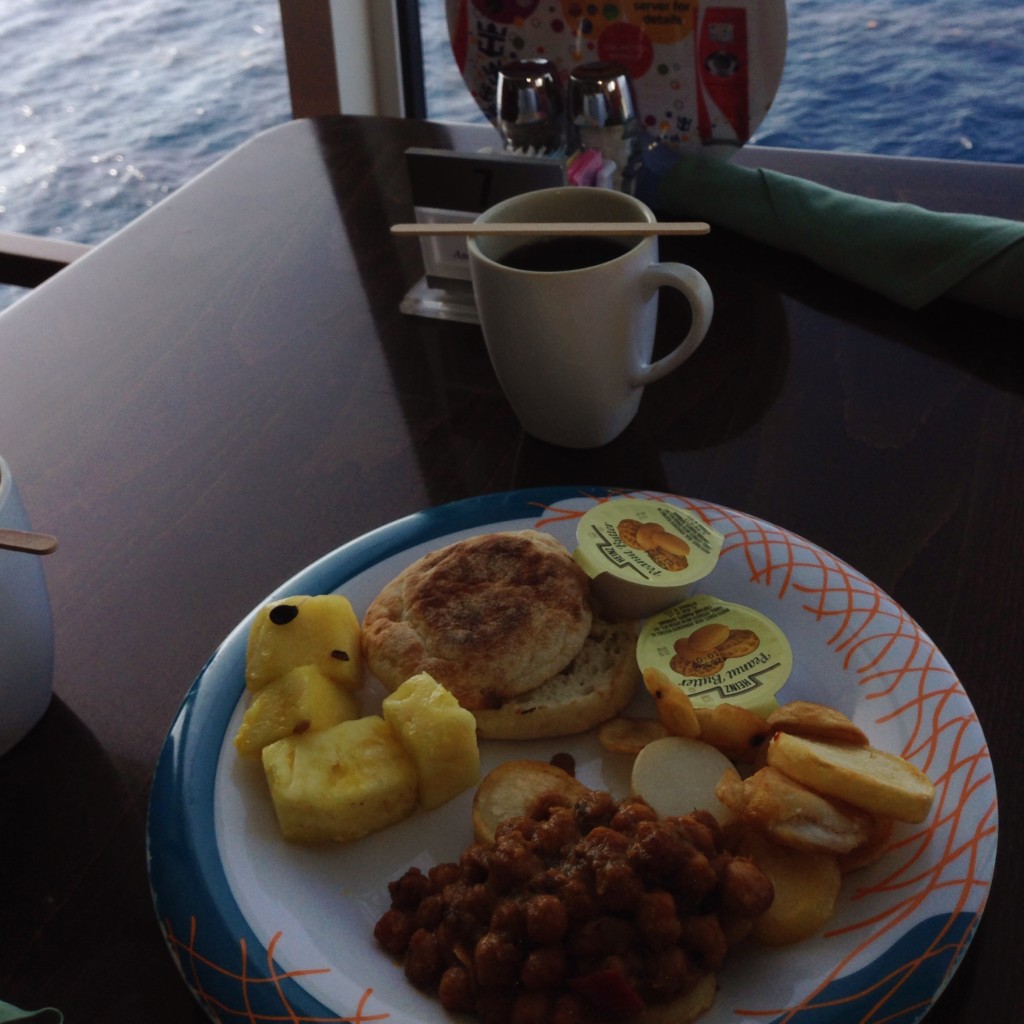 The lunch buffet was even easier. More vegetable options appeared. You could make a salad, the raspberry vinaigrette is vegan, or make a french fry sandwich. It's really your choice. As you can see, I took the less fried route. Here are a couple of my lunch plates from the Windjammer buffet.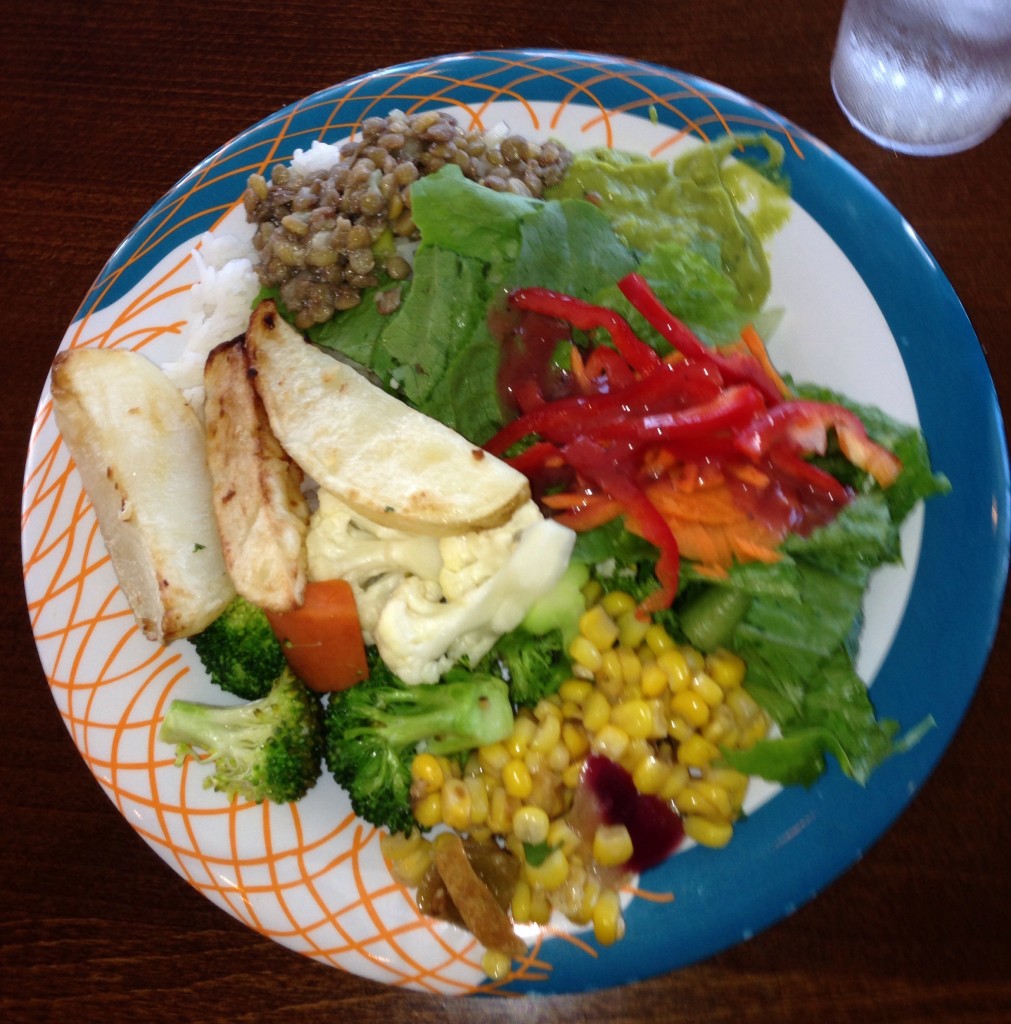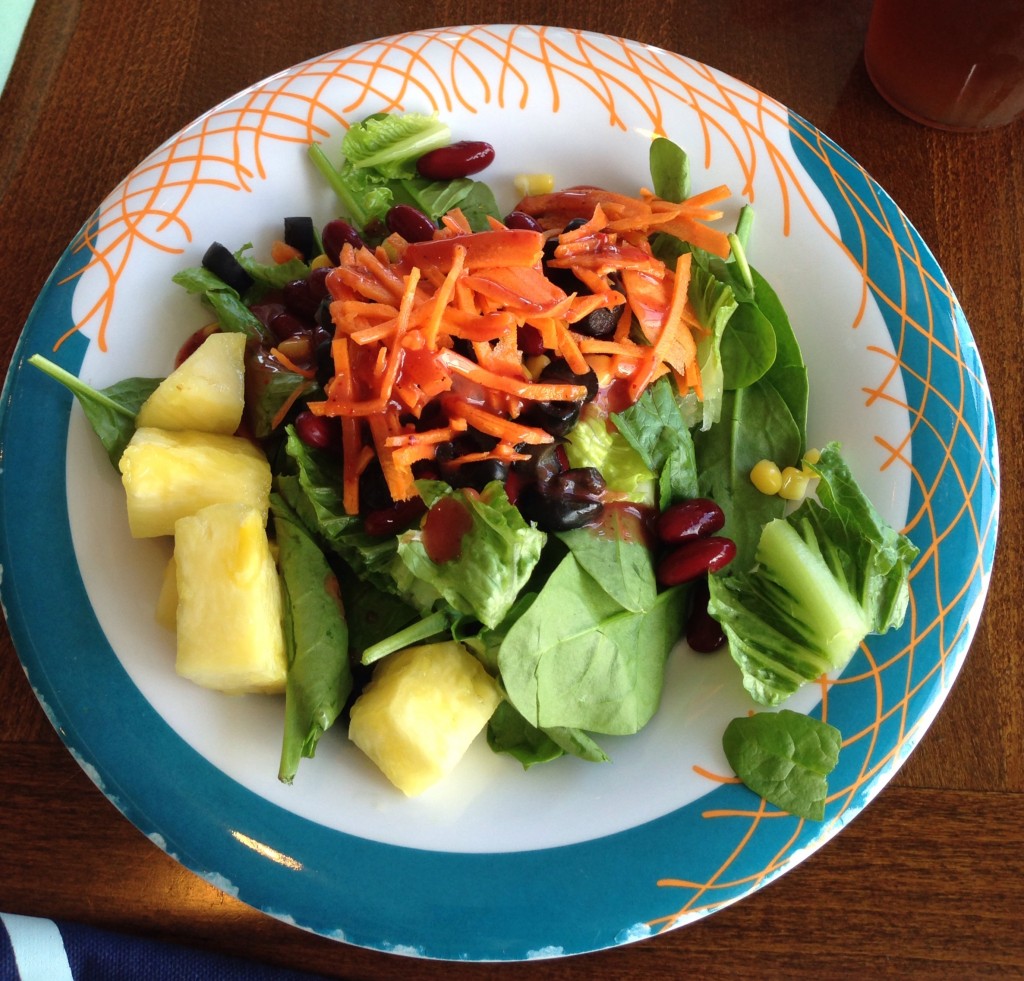 Anyway, the point is that a vegan won't starve on a Royal Caribbean cruise and you can actually put together some healthy, tasty meals. Or you can be a junk food vegan and eat cheeseless pizza and Johnny Rockets (costs extra) streamliners every meal. We've also been to some of the specialty restaurants in the past and they took care of us there too. So don't let vegan food worries keep you from going on a Royal Caribbean cruise.
Oh, and you can even find good vegan food in some of the ports. See my previous post about St. Thomas to find out about options there.  On this trip, we stopped in Cozumel which is a 45 minute water taxi ride away from Playa Del Carmen. There is so much awesome vegan food in Playa Del Carmen that I have several posts about it from a previous trip.
Our favorite was Kaxapa Factory, so we all hopped on the water taxi and headed over for Venezuelan noms. Heed my warning, the water taxi ride is pretty bumpy. I highly recommend taking Dramamine in preparation for the trip. When we got off the taxi, our first stop was a pharmacy for some aptly named Vomisin. The ride back was much easier because of it.
I was feeling traditional and went for the black bean, plantain and avocado arepa. Fabulous as always.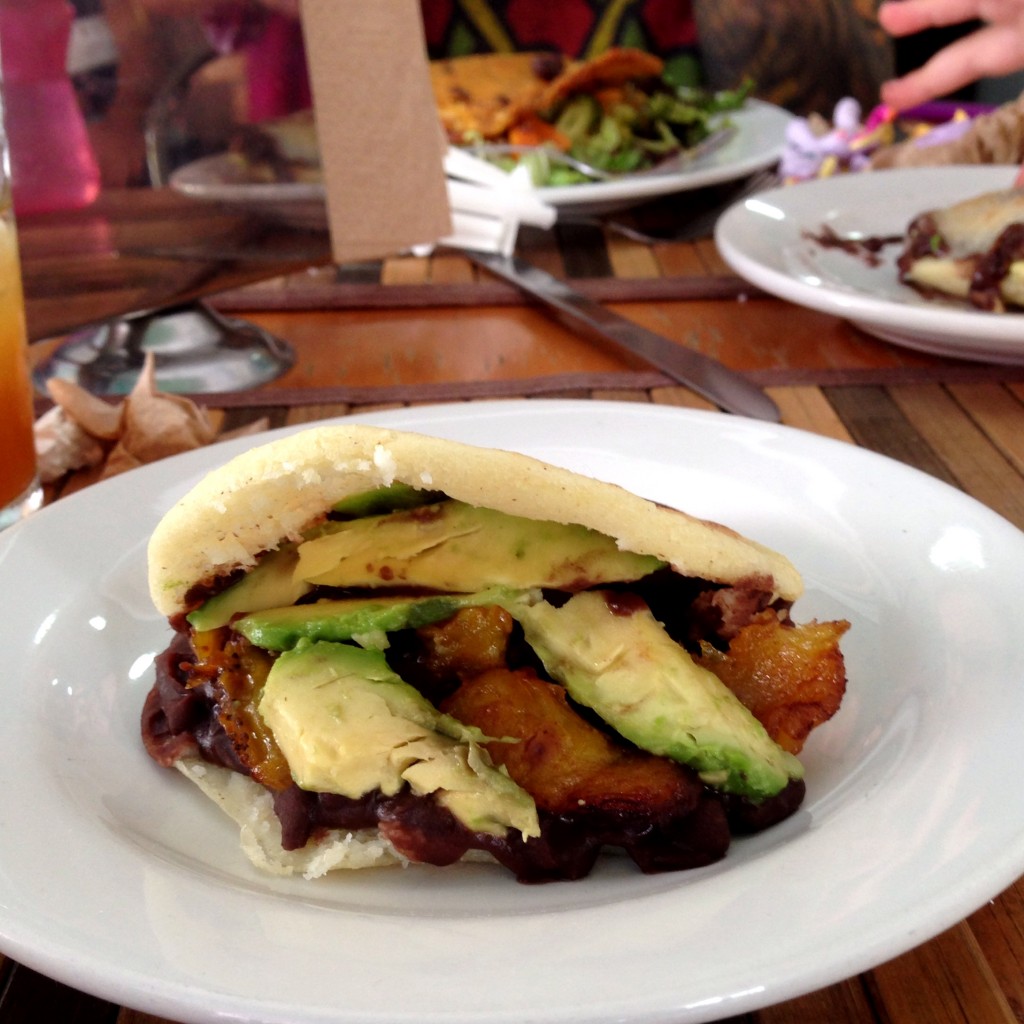 While there is a Starbucks on board, extra of course but at least they have soy milk, nothing beats Ah Cacao's espresso frappé. Three shots of espresso, ice, sugar, blend.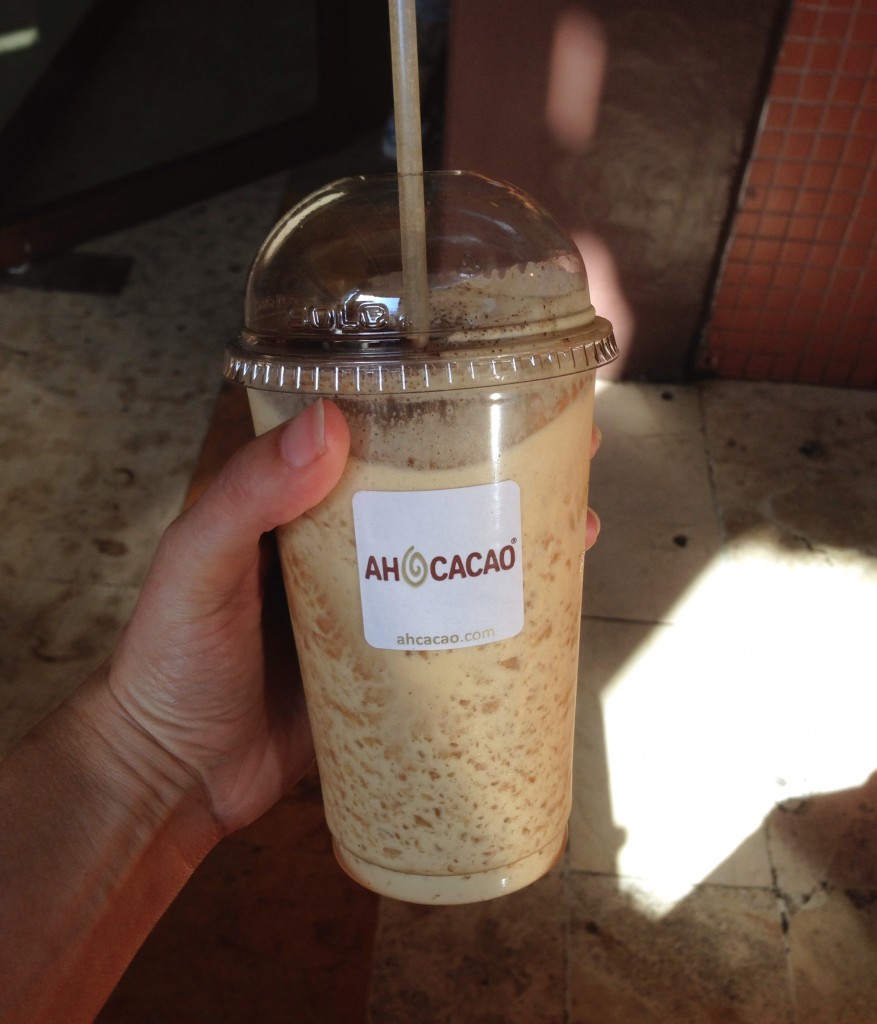 We may have cut it a little close getting back to the water taxi. Thankfully we made the last boat and got back on the ship in time.
So that's about all I've got to say about eating vegan on a Royal Caribbean cruise. I'll just leave you with this sunset as we passed down the coast of Florida.