Eating vegan in Playa Del Carmen, Part 2
Once you get outside of a resort, the vegan options in Playa Del Carmen improve immensely. I'll round up the rest of the options in a future post, but this one restaurant deserves a post to itself.
Kaxapa Factory is a short walk from the center of town. It is a small space with an outdoor patio owned by a Venezuelan family that makes fresh, authentic Venezuelan food, including vegan Venezuelan food. Lots of vegan options. It was so good that we went pretty much every day.
Naicel and her father are usually handling the front of the house. Both are a joy, but if you are vegan, Naicel will probably help you because her English is better. They are also not afraid to stray from the menu and make substitutions, so you can totally build your own meal. Now, let's get on to the food porn.
The first thing I tried was a Patacon. It's like a sandwich with fried green plantain discs as bread. I think this one was filled with tofu, avocado and black beans. Yeah.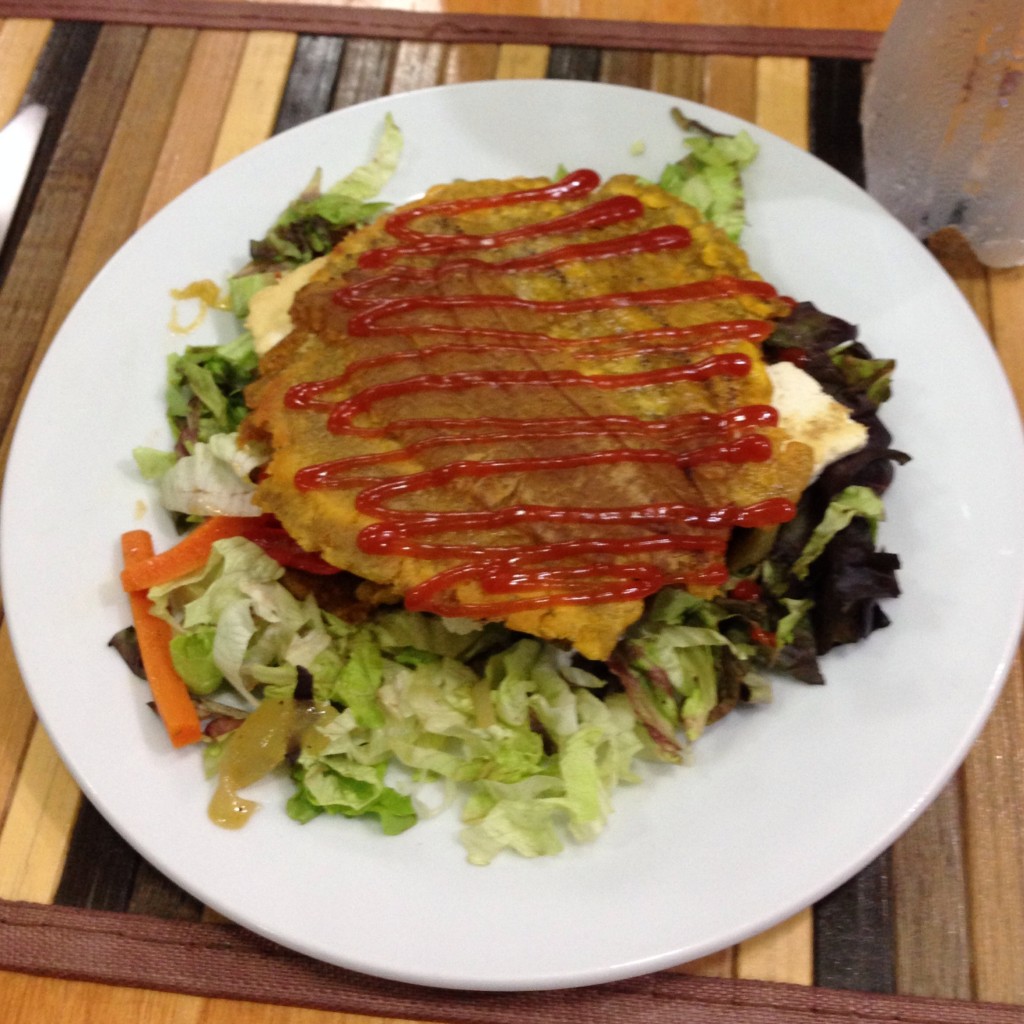 And these were some tostones with tofu. This was just my taste. It was a bigger appetizer that was shared.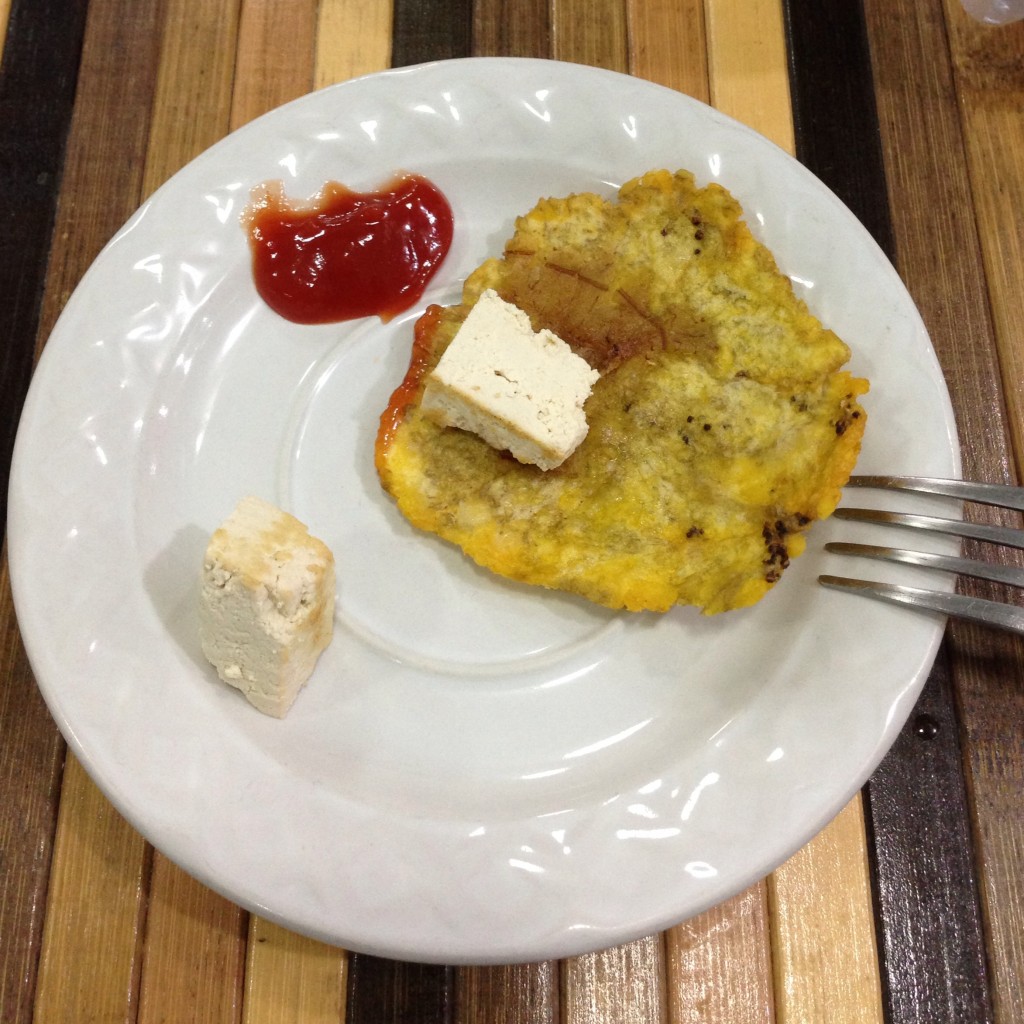 And here's a look back at Kaxapa Factory. That's Naicel in the doorway and her father in the back with the cap. Her mom does the cooking.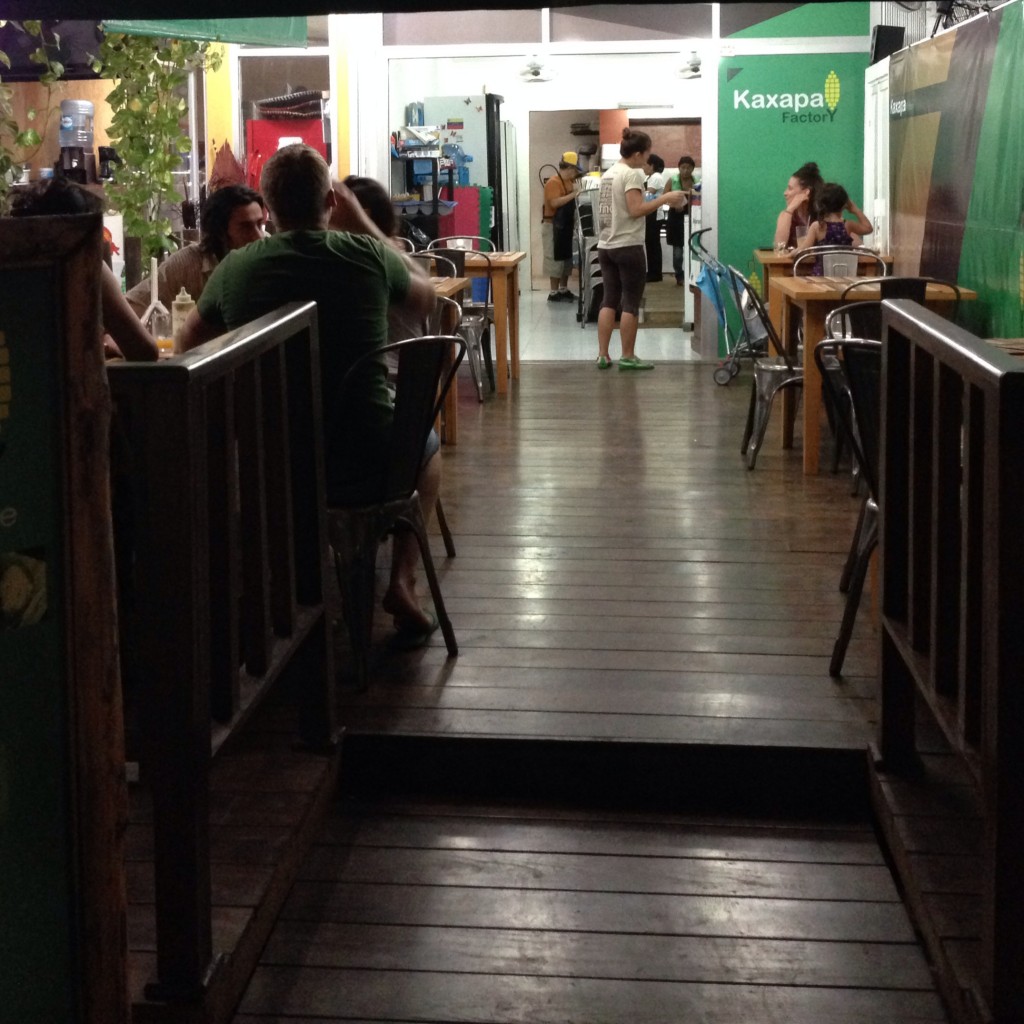 Next visit, Kevin and I both had the soursop drink. Our first visit, Naicel's dad gave us samples of all their house made drinks.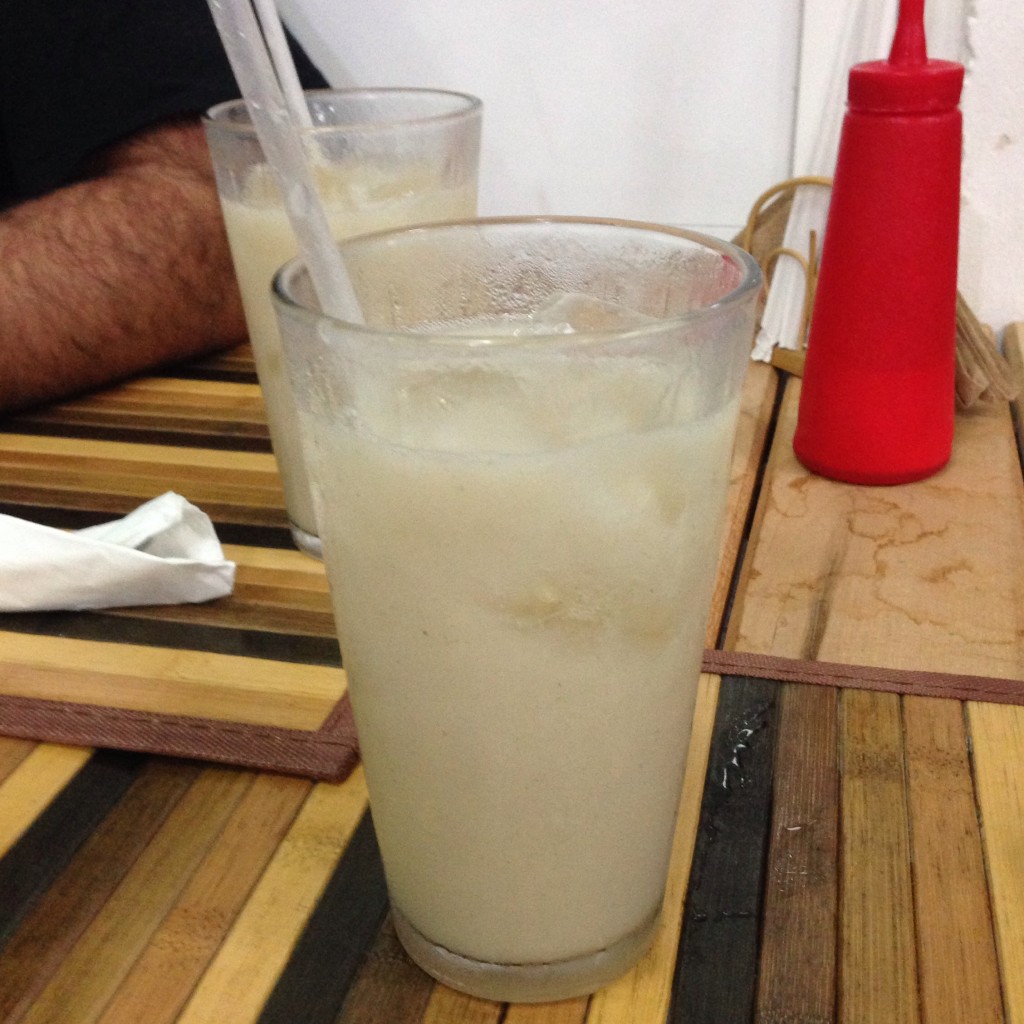 And this time, I got their namesake, a Kaxapa. It's a pancake made by pounding a special corn into a batter. Mine was full of stir fried vegetables and tofu.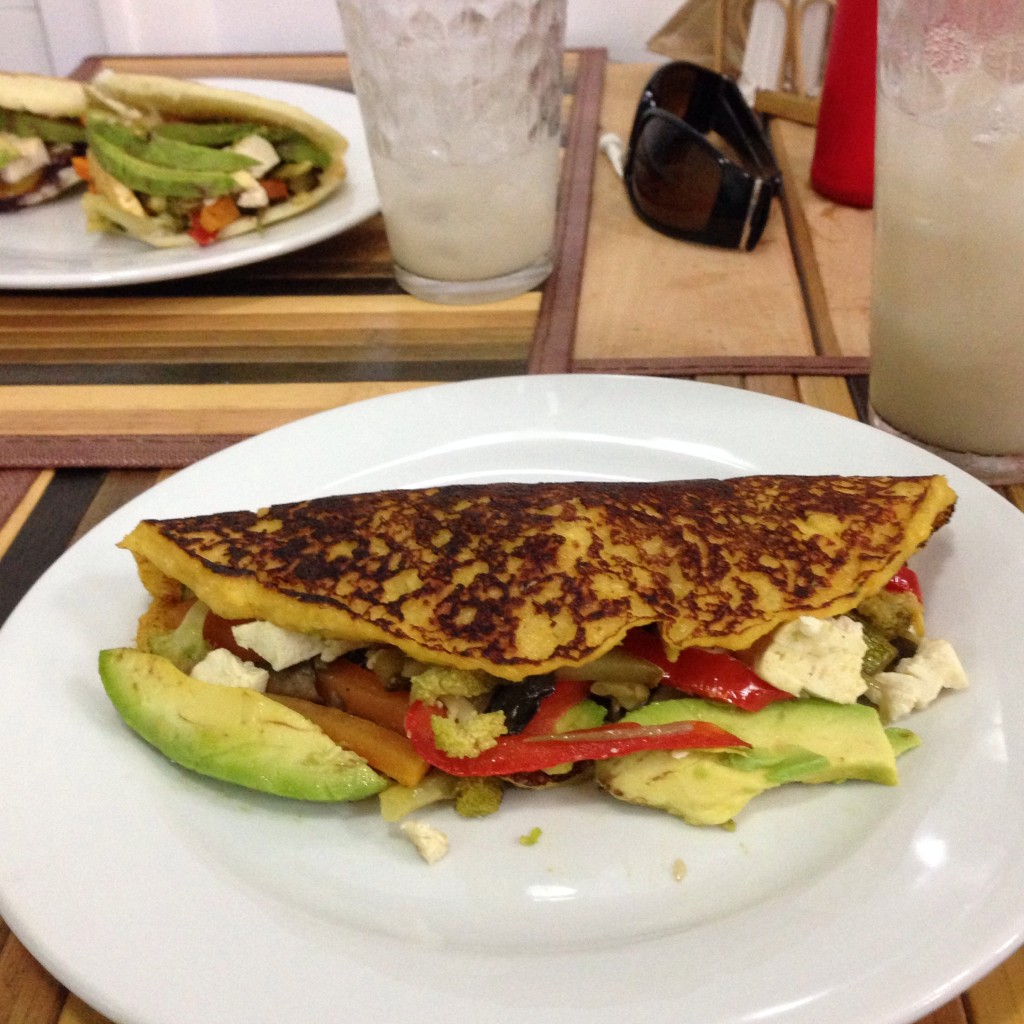 Oh hey, look, we're back again, chowing on fried.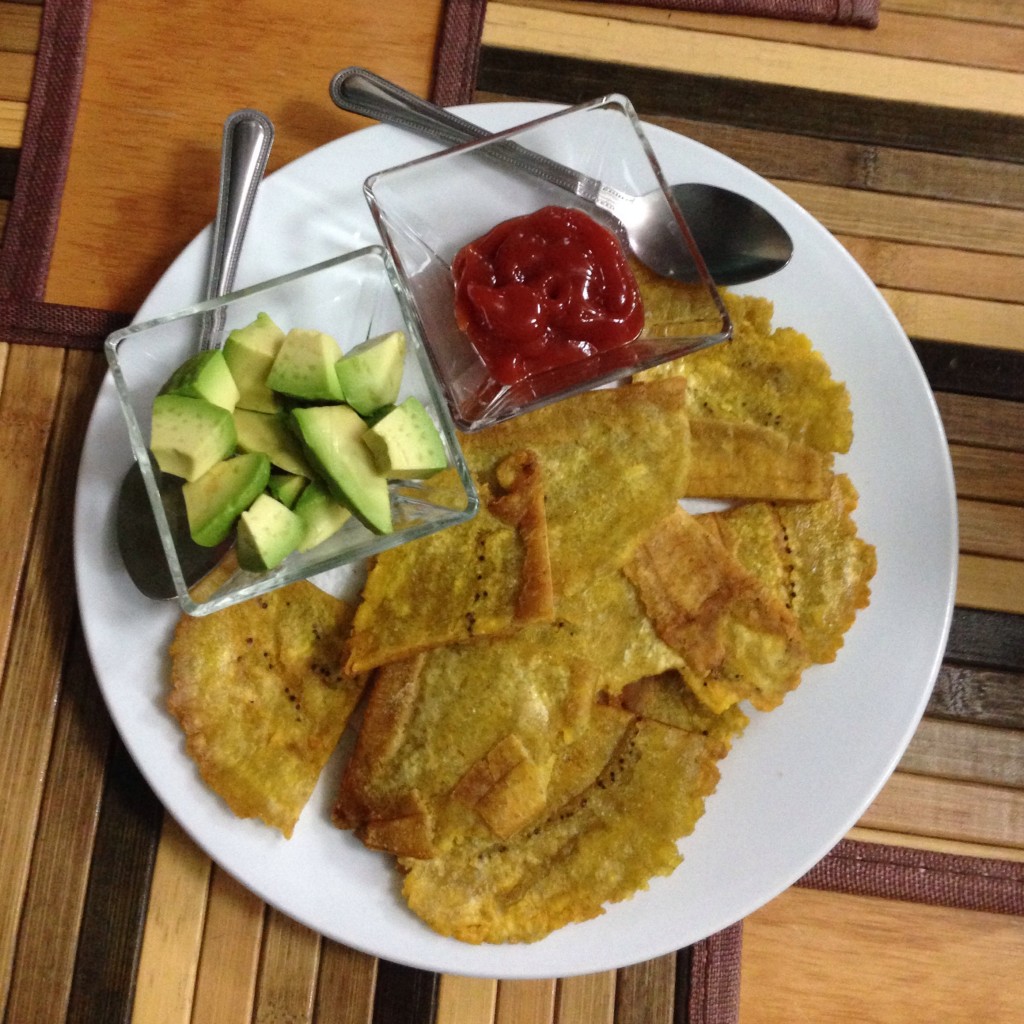 And this time, the Venezuelan lemonade to drink.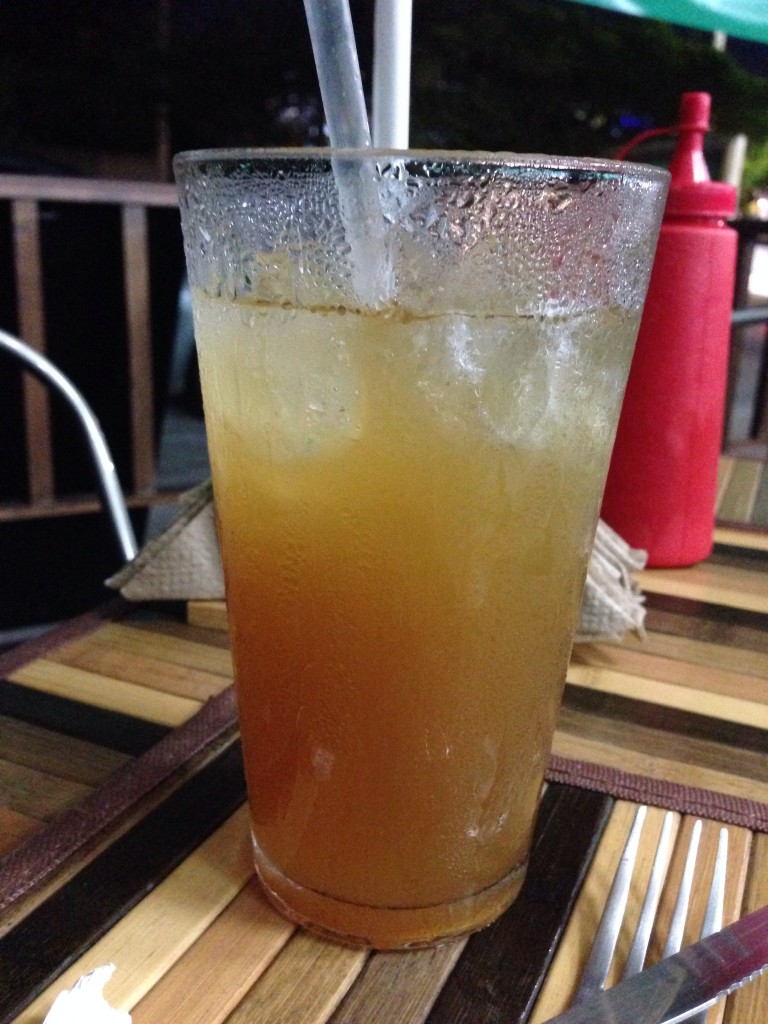 And finally, time to have an arepa! This one is filled with black beans, avocado, tofu and sweet plantains.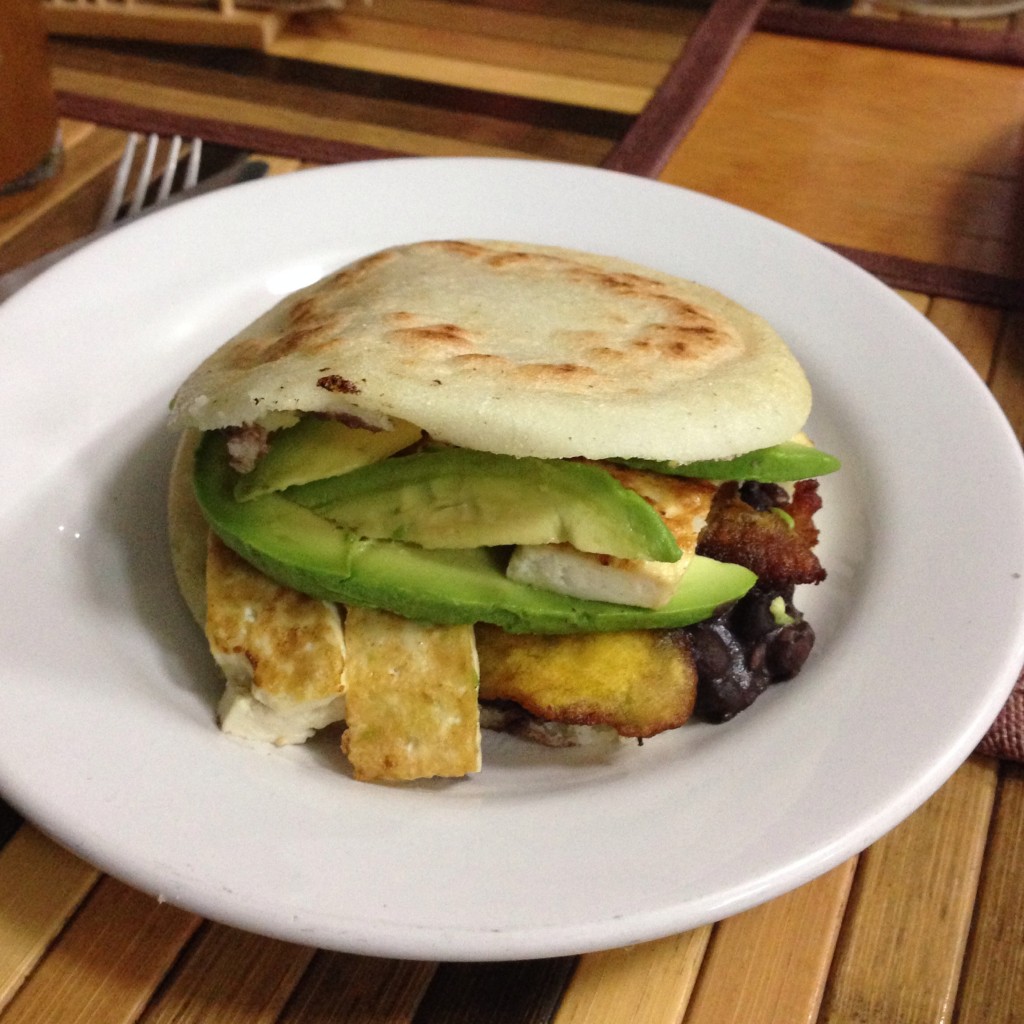 And, we're back again. This time I'm getting up on another Kaxapa.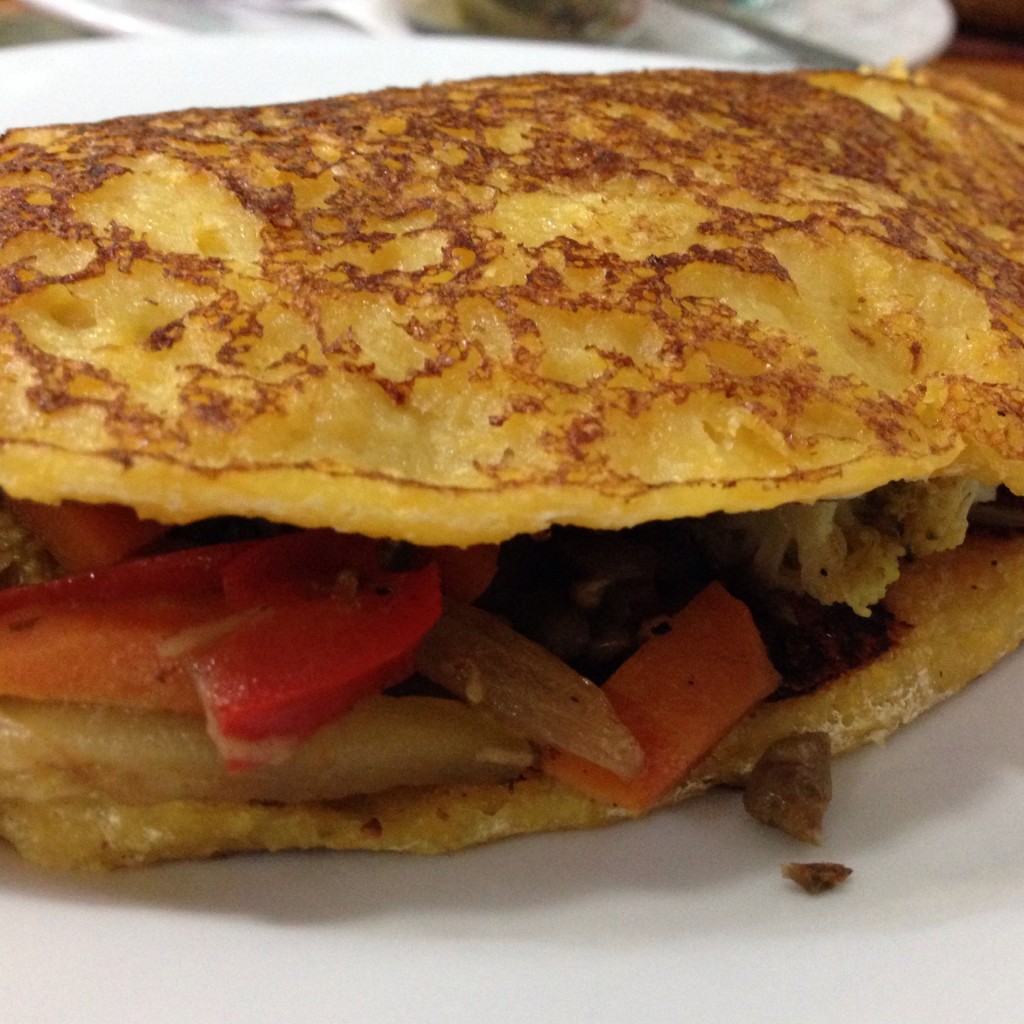 Naicel felt really bad that they didn't have any vegan desserts. So she set about making one for us at home. On our previous visit, we saw her randomly head out to the street and hop in a cab. She came back about 15 minutes later. She said she had a vegan dessert for us at home but forgot to bring it. She took a cab home to get it and then didn't have her key with her. OMG! Seriously, this is how nice these people are.
So this night, she had the chocolate mousse she had made. It was a lovely sweet touch to the end of the meal. But she wasn't done with dessert experiments.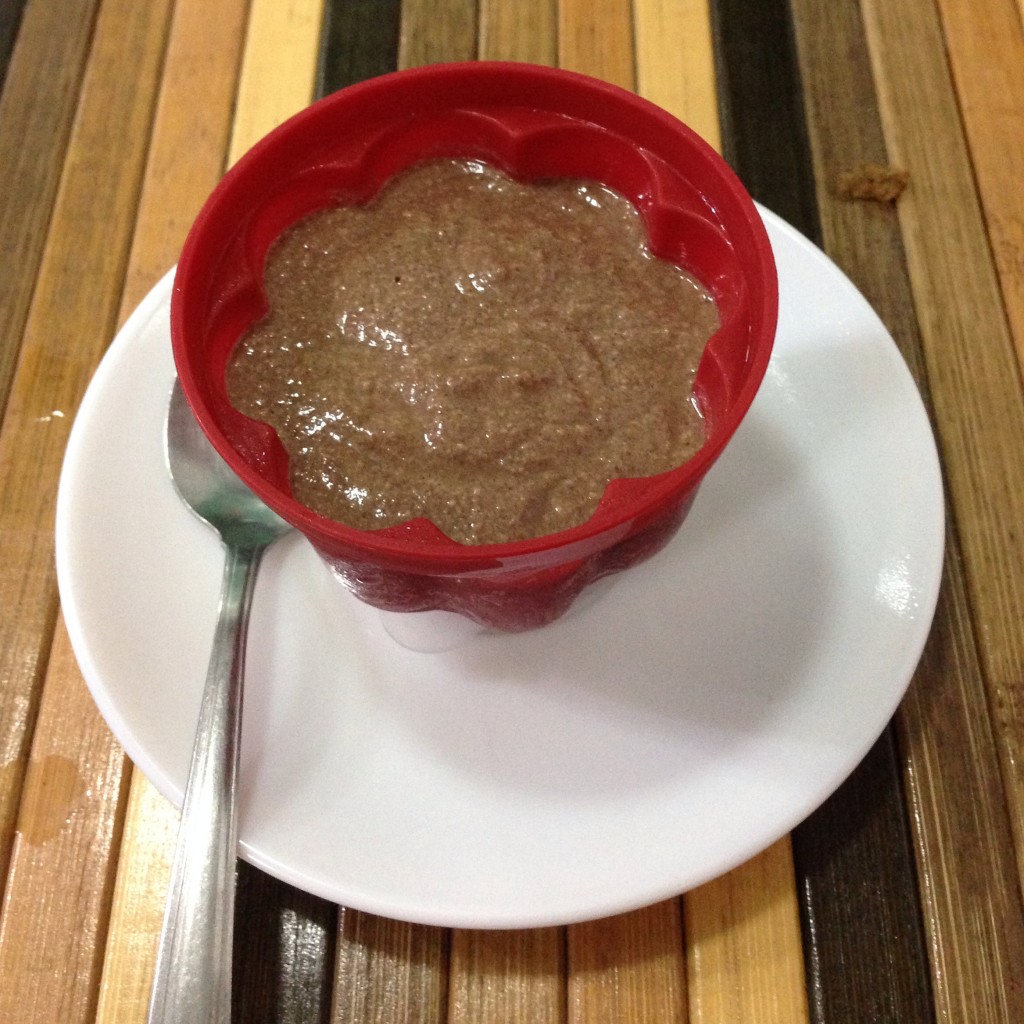 Oh yeah, back again! Can you blame us? This time I had the hibiscus drink.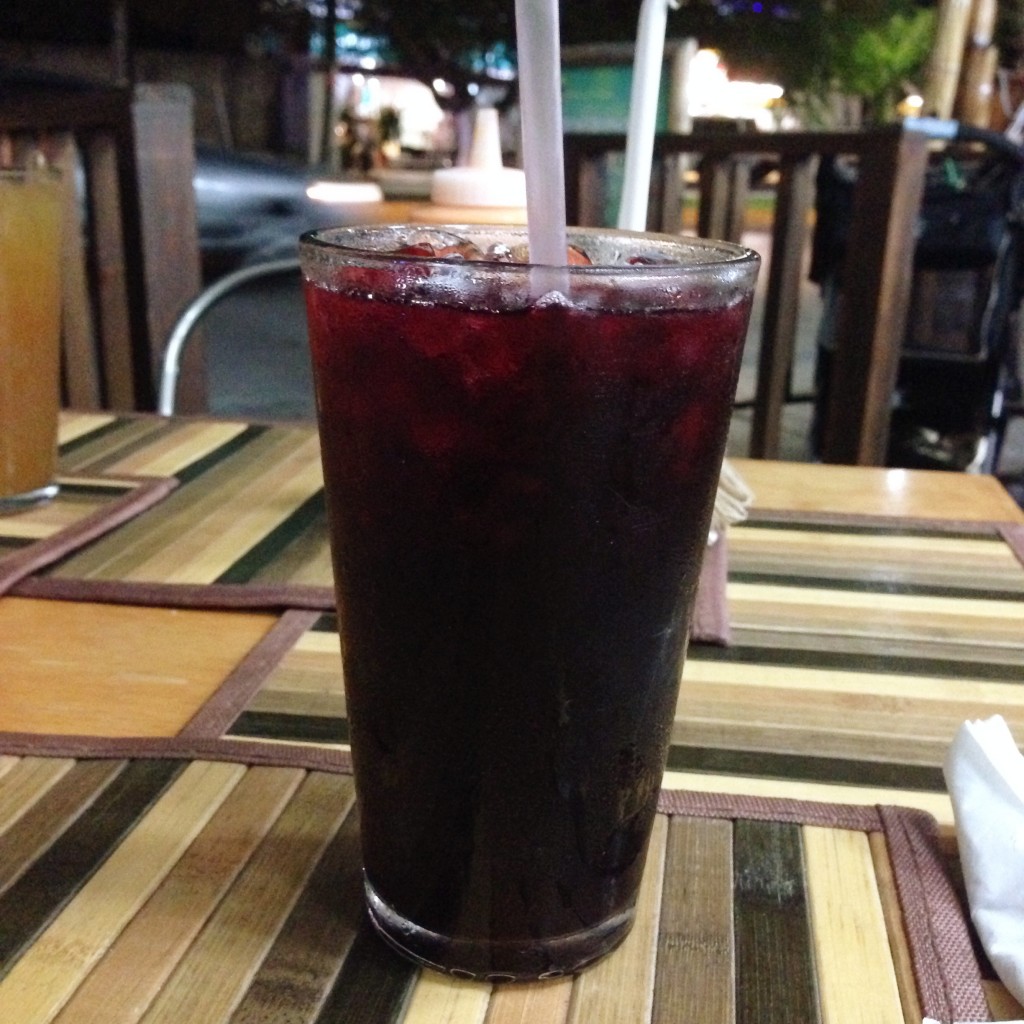 And this is the appetizer we got when Kevin said "surprise us", mini Kaxapa with toppings. I didn't take a pic of my main this time, so it must have been a repeat.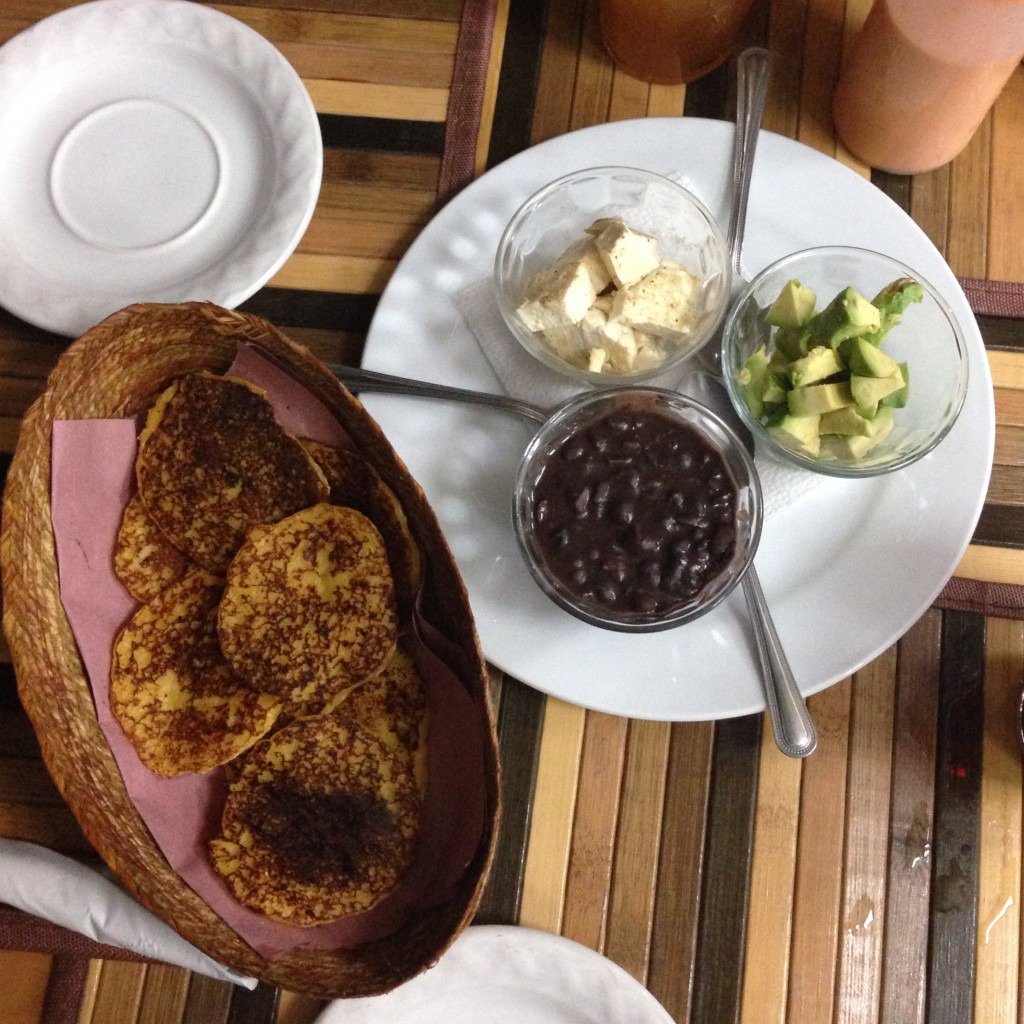 When brainstorming vegan dessert ideas with Naicel, we decided she should try filling their empanadas with fruit. Both are things they already had on hand. So this last meal at Kaxapa, we had mango (I think) filled empanadas that were absolutely perfect.