Just because you're vegan, that doesn't mean you have to throw out all of your non-vegan cookbooks. Making a recipe vegan is oftentimes really simple. If the recipe is good in the first place, making it vegan won't change that fact.
This June, the peach tree we had at the bakery produced a bumper crop. So many peaches. So I needed to come up with some more ways to use them. I did the expected peach cobbler, peach pie, and even some peach crumb muffins. So I turned to the internet like we modern folks do. And this Spiced Peach Carrot Bread caught my eye.
When trying to find an easy baking recipe to veganize, look for one that has two or fewer eggs. It's not that you can't veganize one with more eggs, fewer is just easier. Milk and butter are easy to replace your non-dairy milk of choice and Earth Balance.  My egg replacer of choice in most baked goods is flax. I use one tablespoon of ground flax plus two tablespoons of warm water to replace each egg. So here's this recipe above as made and served at the bakery:
Vegan Spiced Peach Carrot Bread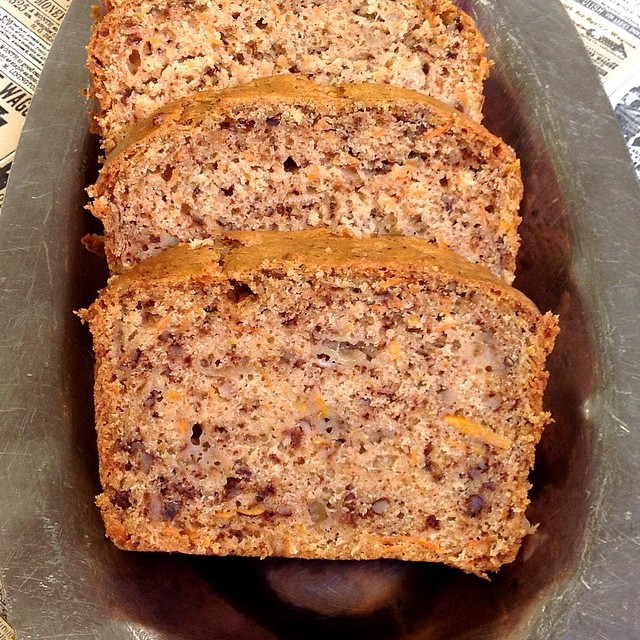 Ingredients
¾ cup chopped pecans
2 ½ cups all-purpose flour
1 cup sugar
1 teaspoon ground cinnamon
¾ teaspoon baking soda
½ teaspoon baking powder
½ teaspoon salt
¼ teaspoon ground nutmeg
1 ½ cups peeled and chopped fresh, ripe peaches
¾ cup freshly grated carrots
⅔ cup vegetable oil
½ cup non-dairy milk
2 flax eggs
Directions
Preheat oven to 350°. Toast pecans in pan on stove top until fragrant. Cool 15 minutes.
Stir together flour and the rest of the dry ingredients in a large bowl; add peaches, remaining ingredients, and toasted pecans, stirring just until dry ingredients are moistened. Spoon batter into a lightly greased 9- x 5-inch loaf pan.
Bake for 1 hour and 5 minutes to 1 hour and 10 minutes or until a long wooden pick inserted in center comes out clean. Cool in pan on a wire rack 5 minutes. Remove from pan to wire rack, and cool completely (about 1 hour).