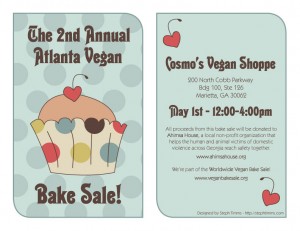 Hey kids! You all like tasty vegan baked goods, right? Then you don't want to miss this year's Worldwide Vegan Bake Sale! This year, Cosmo's Vegan Shoppe is hosting the sale at their space in Marietta, Georgia Saturday, May 1st noon – 4pm to give those OTP folks a chance to get some tasty vegan baked goods. I'm donating some goodies…of course I can't remember what I said I was bringing except banana cream pies. Yep, gonna make some mini vegan banana cream pies. You don't want to miss that, do you? You can also promote and RSVP to the event on Facebook here.
The Metro Atlanta Worldwide Vegan Bake Sale will benefit Ahimsa House. Ahimsa House is dedicated to helping the human and animal victims of domestic violence across Georgia reach safety together.
Thanks Steph Timms for once again creating a super cute flyer for the sale.
The bake sales are being held all over the world, so check here to find out when and where one is being held near you.