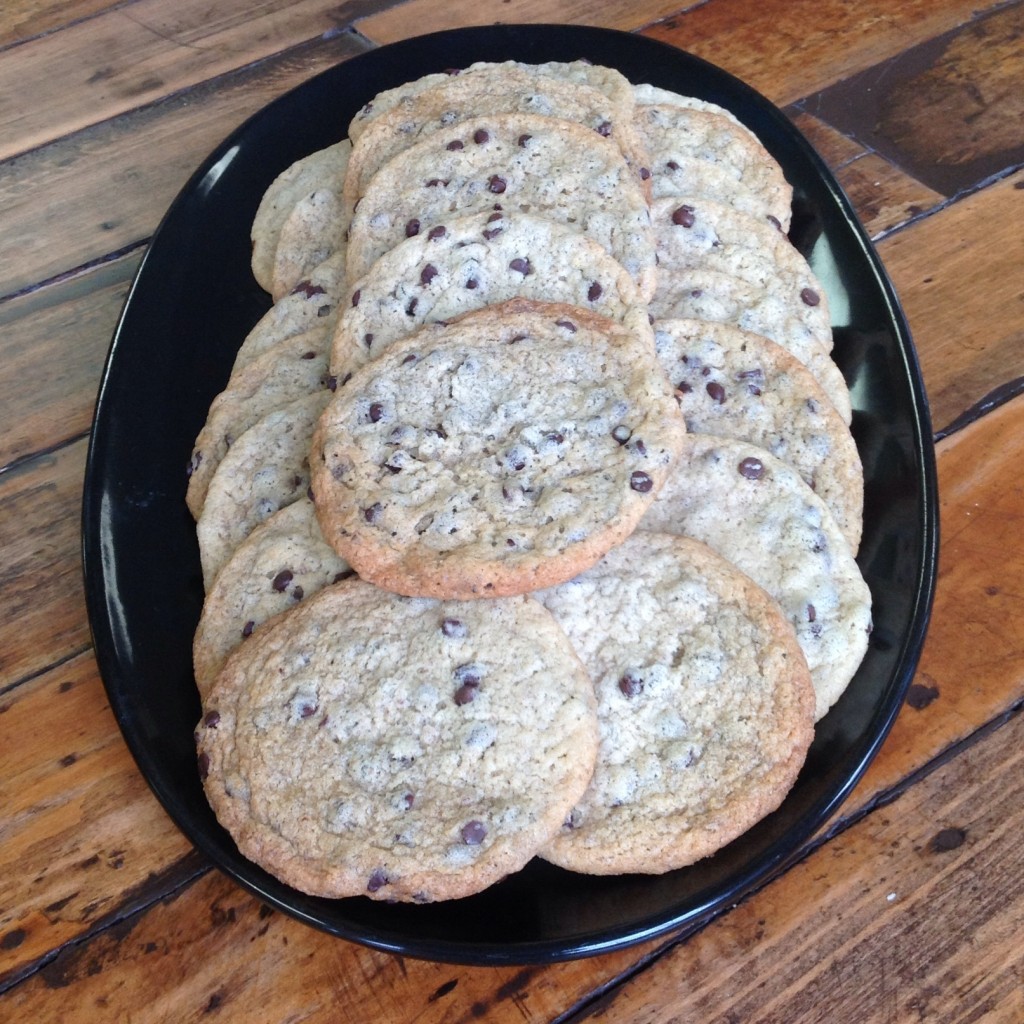 At Dough, one of the most requested items in our bakery case was the chocolate chip cookies. They were big, crisp around the edges and chewy in the center. And completely irresistible when they were still warm. If I'm totally honest with you, one reason we didn't have them in the case every single day is that I would eat them every single day. Seriously, I can't stop myself. Take that as a warning.
This recipe isn't too far off from most vegan chocolate chip cookie recipes, but there is a secret ingredient that most others don't have. Well, it's not going to be secret in a second. That secret ingredient is brown rice syrup. Yes, that's the magical ingredient that gives them a little extra chewiness. If you don't have any or it is hard to get where you are, you can substitute corn syrup.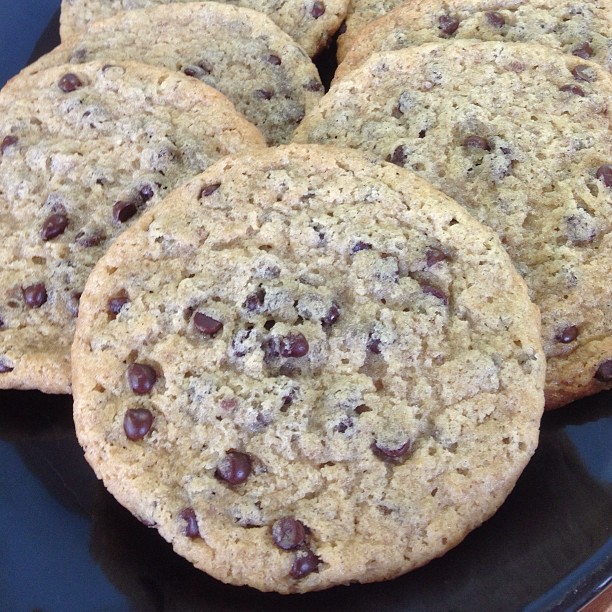 Chewy Chocolate Chip Cookie Recipe
Makes about 4 dozen small cookies
3/4 cup Earth Balance margarine
2/3 cup dark brown sugar
2/3 cup granulated sugar
2 tablespoons brown rice syrup
1 tablespoon cider vinegar or white vinegar
2 flax eggs (2 tablespoons ground flax seed mixed with 1/4 cup warm water)
1 tablespoon vanilla extract
1/2 teaspoon salt
1/2 teaspoon baking powder
1/4 teaspoon baking soda
2 1/4 cups unbleached all-purpose flour
3 cups chocolate chips
1. Preheat oven to 350F. Line baking sheets with parchment.
2. In a large mixer bowl, cream together the Earth Balance, sugars, brown rice syrup, and vinegar, then beat in the flax eggs. Beat in the vanilla, salt, baking powder, and baking soda. Stir in the flour and chocolate chips.
3. Drop by cookie scoop or spoon onto the prepared baking sheets. Bake the cookies for 12 minutes, until they're just set; the centers may still look a bit underdone. Remove them from the oven, and cool complete on a rack.
I'll be posting more recipes from Dough from time to time. Any requests? Just leave it in the comments.
Would you have any interest in an ebook of vegan baking recipes? Drop your email below and I'll contact you if I do one!
[contact-form][contact-field label='Name' type='name' required='1'/][contact-field label='Email' type='email' required='1'/][contact-field label='Comment' type='textarea'/][/contact-form]