Whoops, fell off the VeganMofo wagon there for a while. Was a little bit preoccupied with closing down a business. Now on to other things one of which is catching up here.
For new vegans, one of the challenges is figuring out what to eat. Really, this happens any time you drastically change your diet. These days, there are tons of awesome vegan cookbooks out there. But a lot of them either rely on ingredients that can be hard for new vegans to find or they're more complicated than the skills of some novice cooks can handle. So here are a couple of cookbooks I like to recommend to new vegans with simple recipes made of mostly easy to find ingredients.
Vegan On the Cheap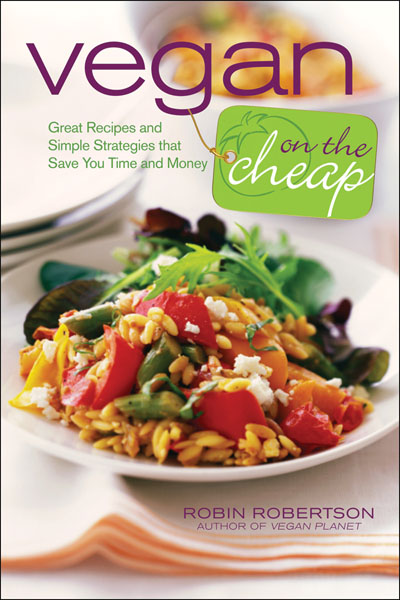 I actually got Vegan On The Cheap by Robin Robertson after the bakery opened. Two things I had little of were time and money. After long hours of baking, I didn't want to spend much time cooking at home. And I certainly didn't want to go to four different stores to get all the ingredients I needed. Normally I would rather cook with fresh ingredients from the farmer's market, but frozen and canned ingredients are much easier to keep on hand without going bad when your schedule is volatile.
Most of the recipes in Vegan On The Cheap are composed of ingredients easily found in a regular grocery store. One of the recipes I make over and over is the Barbecued Black Bean and Tofu Burritos. I make double and triple batches of the black beans, make tofu separately, and then eat it in tacos, burritos, over rice, as nachos, etc. We never get tired of these beans. Other favorites: Cincinnati Suburb Chili, Korean Cabbage Salad with Tofu, Penne-wise Peanutty Pasta, Dan Dan-style Linguine, Coconut Curry Rice, Tofu Fried Rice, Tropic of Tempeh, and Rice Island Casserole. Right now as I'm writing this, I've got the Slow-Cooker Seitan Pot Roast going in the kitchen. It'll be the first time I've tried that one.
Vegan On The Cheap's first chapter covers basics. You'll save money by making your own vegan parmesan, sour cream, mayo, vegetable stock, and beans from bulk dried beans. If you find a book like Veganomicon overwhelming, Vegan On The Cheap will cover the basics.
Vegan Italiano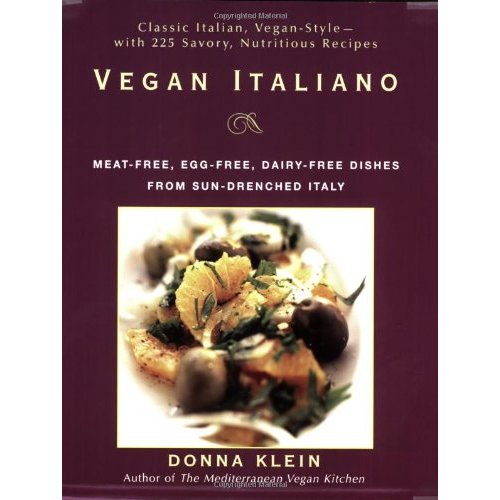 Who doesn't like Italian food, right? Vegan Italiano by Donna Klein is a whole book full of vegan Italian recipes! Bonus: no meat substitutes required. So if you don't like fake meats, tempeh or tofu, this is the cookbook for you.
One nice feature in this book is that in some of the recipe sections, lighter fare is separated from hearty fare. For example, in the soups, you have light soups and then meal-in-a-bowl soups. I tend to go for the meal-in-a-bowl soups. Some of my favorites are Lentils and Pastina Soup and Chickpea and Pasta Soup. For an extra nutritional boost, I'll add half a bag of frozen spinach to each.
The Potato and Green Bean Salad is a big hit at potlucks. Make it with purple potatoes and it's extra pretty. Naturally there are plenty of interesting pasta recipes. And if you want to jazz up your vegetable sides, you've got plenty of options here. For a lazy, impressive dessert, try the Chocolate Strudel. Accidentally vegan Pepperidge Farm Puff Pastry makes it extra easy.
What is your favorite cookbook to recommend to a new vegan?