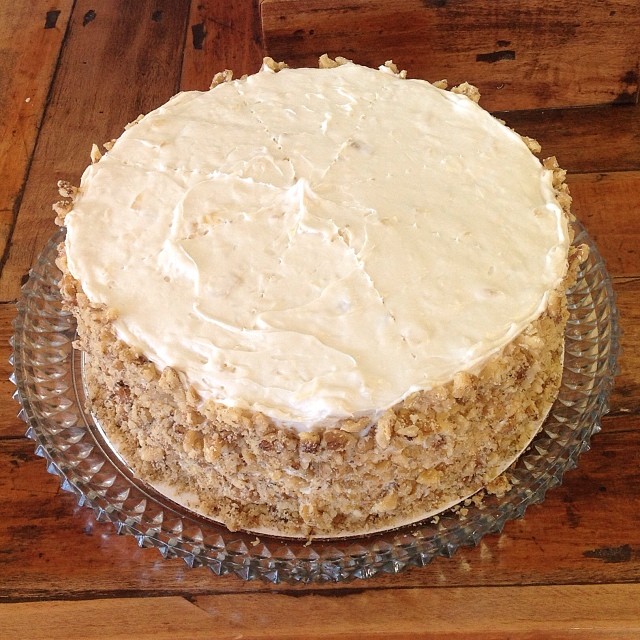 There's still a huge pile of pictures from our trip to Playa del Carmen to go through. I looked at it earlier and it hurt my brain trying to think about how to divide up the posts so I decided to break things up a bit by posting my vegan hummingbird cake recipe.
Yep, this is the vegan hummingbird cake we had at Dough. It was one of our most popular items. It was not possible to make enough of these. They just flew out of the case.
Personally, I'm more of a chocolate fan, but there's definitely something alluring about the banana, walnut and pineapple mixture. And it's a perfect flavor mix for Summer gatherings. Just keep it refrigerated until you serve it. The frosting does not hold up in the heat very well.
Vegan Hummingbird Cake Recipe
3 cups all purpose flour
2 teaspoons baking powder
1 teaspoon salt
2 cups sugar
3 flax eggs (3 tablespoons of ground flax seed mixed with 6 tablespoons of warm water)
¾ cup vegetable oil
2 teaspoons vanilla extract
1 cup crushed pineapple, drained
3 banana, mashed
¼ cup chopped walnuts or pecans
Spray two 9-inch round cake pans with oil and line with parchment if you have it. In the bowl of your stand mixer or a large mixing bowl, combine ingredients through the sugar.
Mix together the remaining ingredients except for the nuts in a medium bowl and then combine with the dry.
Mix thoroughly. Stir in the nuts.
Divide the batter between the two cake pans.
Bake approximately 30 minutes at 350F or until the center of each cake is done. Let cool completely before frosting. It'll frost better if you wrap in plastic and refrigerate overnight before you frost it.
Vegan Hummingbird Cake Frosting
1 pound vegan cream cheese (we used Tofutti)
1/3 cup crushed pineapple, drained
2 cups powdered sugar, sifted if lumpy
4 teaspoons arrowroot powder
2 teaspoons instant clearjel (optional, but helps firm up frosting)
1 cup or so of walnuts or pecans, chopped fine
Whisk arrowroot powder and instant clearjel (if using) into powdered sugar.
Beat the cream cheese and powdered sugar together until smooth in a stand mixer.
Add remaining ingredients except for nuts and continue mixing until blended.
To finish cake
If cakes domed in the center, level with a serrated knife. Then eat those tasty snax.
Place a cake layer on a cake plate, cut side down if leveled. Spread frosting on top of layer. Sprinkle with nuts if you like.
Put second layer on top of first, again, cut side down. Spread frosting over top of cake then sides. Top should be thicker than sides. On the sides, don't worry if it's not perfect. Press chopped nuts all around the sides. Refrigerate until served.
Protip: there's no reason to suffer crappy bakeware. We used Fat Daddio's cake pans at the bakery. They don't really cost more than the crappy ones usually sold to home bakers, they just last longer and work better.
If you have a restaurant supply that sells to the public, that's where you want to go locally to get bakeware. We have one called Atlanta Fixture here. Seriously, professional quality tools that cost less. Check it out.
Would you have any interest in an ebook of vegan baking recipes? Drop a comment and I'll contact you if I do one!
Note, I do use affiliate links on the site occasionally. The coinage goes towards B12 and vegan protein powder. Because vegans will go extinct without protein powder.